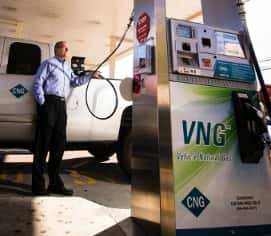 Pennsylvania-based VNG.Co LLC has announced the addition of compressed natural gas (CNG) refueling capacity at two existing gasoline stations in Texas: a Valero-branded station at 3411 Antoine Dr. in Houston and a Shell-branded station at 12977 Trinity Blvd. in Euless, outside of Dallas.
To mark the occasion, both locations will offer CNG by VNG for a limited-time promotional price of $0.99/GGE. According to Robert Friedman, chief operating officer of VNG, 'The addition of these station locations and the promotional offer is an invitation to area fleets and consumers to come see what the future of CNG fueling is all about.'
The station construction projects were funded, in part, by an Alternative Fueling Facilities Program grant from the Texas Commission on Environmental Quality (TCEQ).Â
'TCEQ funding provides an important catalyst to the market and is an integral part of a comprehensive state effort to promote natural gas for transportation as a key component of emission reduction efforts," comments Friedman.
VNG says it plans to open additional retail CNG facilities in the Houston and Dallas metro areas this year.