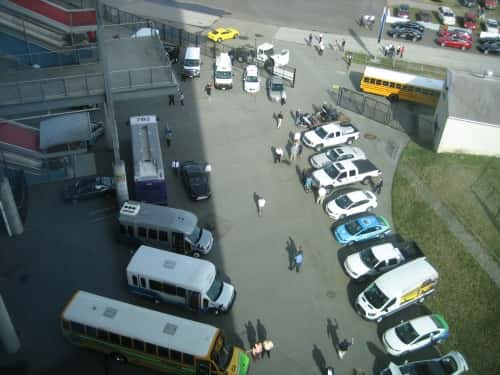 By the end of 2014, Virginia had 24,642 alternative fuel vehicles (AFVs) in 100 fleets and 431 alt-fuel stations, according to Virginia Clean Cities. The organization announced its latest statistics during its second annual Rally at the Raceway event, which was held last week with partners at the Richmond International Raceway (RIR).
Virginia Clean Cities says fleet AFVs in the state include hybrids and vehicles fueled by electricity, propane, natural gas, E85 and biodiesel. The organization also says that 16.8 million gallons of petroleum, as well as 95,000 tons of greenhouse-gas (GHG) emissions, have been displaced from usage of these alternative fuels.
Over 150 attendees and 40 AFVs of various types converged at the RIR for the annual event, which included a ride-and-drive on the track and the inaugural delivery of the Governor's Green Fleet Awards.
According to the Virginia Clean Cities, the awards are meant to recognize successes and achievements of green fleets across the state. This year's recipients included Supervalu for GHG reduction, Dominion Resources for petroleum reduction, and Greater Richmond Transit Co. for green fleet of the year.
Virginia Clean Cities notes it has helped manage several alternative fuel initiatives in the state and surrounding region, including a large propane autogas conversion project of over 1,189 vehicles, the state's electric vehicle deployment planning through the Richmond Electric Vehicle Initiative, and working groups for other fuels such as compressed natural gas.
'The key to Virginia Clean Cities' enduring success over two decades is the coalition's proven ability to build relationships,' said Alleyn Harned, executive director of Virginia Clean Cities, at the event.
'Through the coalition, stakeholders learn from one another's experiences, replicate past successes, and work together on projects and events," he continues. "This kind of collaboration creates economies of scale for alternative fuels and tipping points of demand for advanced vehicles, so petroleum is no longer the only game in town. We are very excited to be at RIR today to celebrate and acknowledge successes in this sector.'
Virginia Clean Cities is one of nearly 100 coalitions nationwide under the U.S. Department of Energy's Clean Cities program.
Photo: An aerial view of alternative fuel vehicles during the Rally at the Raceway event. Photo courtesy of Virginia Clean Cities.