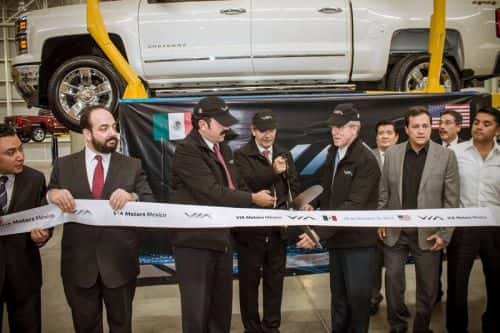 VIA Motors has cut the ribbon on its new facility in San Luis Potosi, Mexico, where VIA's electric vehicles (EVs) will be manufactured on a high-volume assembly line.
New vehicles – including trucks, vans and SUVs – are transported from the General Motors production facility in Silao to VIA's plant in San Luis Potosi, where they are converted into EVs by integrating VIA's proprietary extended-range electric powertrain. The facility uses a conveyor-scissor lift system that moves conventional vehicles through eight assembly stations, where technicians raise/lower the vehicle to install electric and other components.
'VIA's unique assembly system will be able to output two electric vehicles per hour and 10,000 vehicles per year,' says Pablo Acedo, president of VIA Motors Latin America. 'San Luis Potosi will soon become synonymous with electric vehicles.'
The new facility is adjacent to the 'NAFTA highway' and a Kansas City Southern rail line, enabling the easy transportation of EVs to the U.S. and Canada, VIA notes.