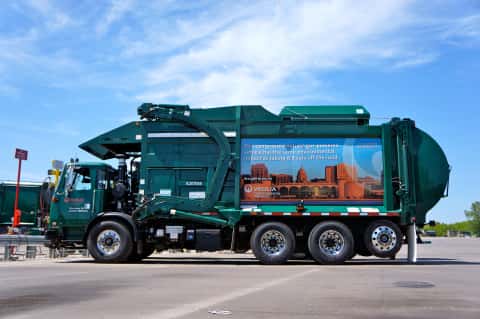 Veolia ES Solid Waste Inc. has deployed 13 new compressed natural gas (CNG) refuse vehicles in its Waunakee, Wis., service area. The trucks are McNeilus and Heil refuse bodies on Autocar CNG chassis.
The company, which is a division of Veolia Environmental Services North America Corp., also worked with CNG infrastructure specialist Vocational Energy to install a 48-bay time-fill refueling station. The natural gas is provided to the site by Madison Gas & Electric.
According to Veolia, the trucks will be filled during overnight hours, which minimizes administrative and operational downtime. The site is designed to fill up to 47 trucks simultaneously, and it also has one fast-fill dispenser to allow trucks to fuel quickly, if needed.
'The time-fill station will generate 239 diesel-gallon equivalent (DGE) per hour, allowing Veolia to fill their trucks at night, unassisted,' says Scott Edelbach, president of Vocational Energy.
The time-fill platform allows fleet operators to connect to the fueling hoses upon returning to the yard at the end of their day. The system then fuels the trucks and automatically shuts off the flow when the tanks are full, according to Vocational Energy.
Veolia currently operates four CNG fueling stations and more than 100 CNG-powered refuse collection and support vehicles in North America. The company plans on deploying additional CNG trucks in Waunakee over the next two years.
Photo courtesy of Veolia ES Solid Waste Inc.