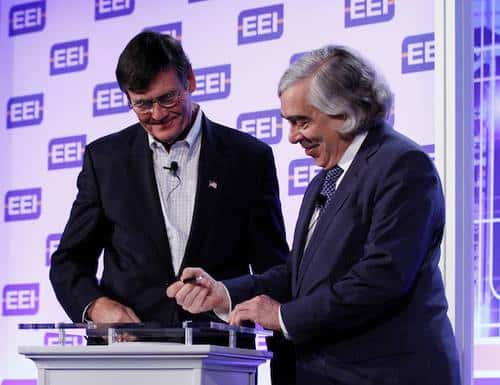 The Edison Electric Institute (EEI), an association representing U.S. investor-owned electric companies, and the U.S. Department of Energy (DOE) have announced a new private-public partnership that will identify and pursue collaborative opportunities between the government and the utility industry to promote and accelerate the nationwide adoption of electric vehicles (EVs).
During EEI's Annual Convention in New Orleans on Monday, DOE Secretary Ernest Moniz and EEI President Tom Kuhn signed a memorandum of understanding (MOU) to take a variety of joint actions, including research, infrastructure and outreach programs, related to electric transportation.
'Transportation electrification benefits electric utility customers, while also bolstering America's energy security and sustainability," said Kuhn. "These are priorities our industry shares with our government partners.'
'The U.S. transportation system produces a third of the country's carbon emissions, making it essential that we improve plug-in electric vehicle technology and increase their numbers on the road,' said Moniz. 'Today's announcement enhances the kinds of private-public partnerships needed to remain at the forefront of advanced vehicle technologies that reduce our emissions and provide safe, reliable transport for the American people.'
'Today's memorandum of understanding with the nation's electric power industry allows the Department of Energy to tap into the experience and scale of an industry that is truly leading the way in moving the electric vehicle market forward,' said Kate Brandt, federal chief sustainability officer at the White House Council on Environmental Quality.
Brandt added, "The federal government is doing its part, too, and will benefit from this partnership," noting a recent executive order from President Barack Obama mandating that federal agency fleets cut per-mile greenhouse gas emissions and incorporate more electric vehicles.
EEI says its collaboration with the DOE builds on the electric utility industry's leadership on transportation electrification. One example of this dedication is EEI's fleet electrification initiative. Launched last year, this effort includes a commitment by EEI and its partnering member companies to invest at least 5% of their annual fleet budgets in plug-in vehicles and technologies.
EEI also announced that its fleet electrification initiative has exceeded the anticipated $50 million annual industry commitment and will total more than $90 million in 2015, adding more than 800 new plug-in vehicles and 740 new charging ports to utility fleets.
Photo courtesy of the Edison Electric Institute: EEI President Tom Kuhn and Energy Secretary Moniz sign the MOU on electric vehicle adoption.