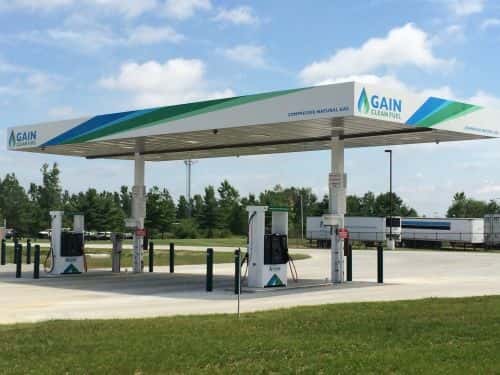 U.S. GAIN has partnered with Emterra Group, a Canada-based waste and resource management company, to build and operate what the companies say will be Ontario's largest compressed natural gas (CNG) fueling station.
Located in Mississauga, the new facility will be the second GAIN Clean Fuel CNG station in Canada. Emterra will use the station to fuel 120 CNG waste and recycling collection vehicles, and the facility will also be open to other companies with CNG fleets.
Emterra says it is converting its fleet of collection trucks from diesel to natural gas as part of its commitment to reduce greenhouse-gas emissions and noise pollution. By year's end, the company will have more than 200 natural gas trucks operating throughout Canada.
"Converting our fleet to CNG is the next logical step for our company to fully live our mission of improving the environment," says Emmie Leung, Emterra's founder and CEO. "The new CNG station will make it possible for us to contribute to the environmental health and well-being of the communities we service by operating greener trucks."
Bill Renz, general manager of U.S. Gain, says the company is excited to partner with Emterra and the new project will add to its growing network of CNG stations. According to U.S. GAIN, there are currently 46 GAIN Clean Fuel stations in operation or under construction throughout North America.
Photo: A GAIN Clean Fuel CNG station in Columbus, Ohio. Photo courtesy of U.S. GAIN.