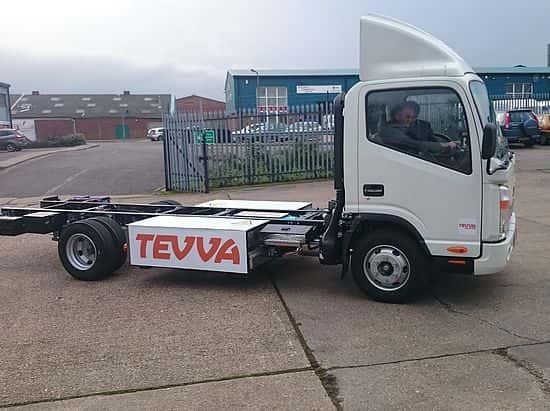 UPS is testing a range-extended electric delivery vehicle developed in collaboration with TEVVA Motors in the U.K.
UPS has worked with TEVVA Motors to develop a prototype since June 2014, as part of UPS's growing investment in alternative fuel and advanced technology vehicles. A small, highly efficient diesel engine acts as a generator to recharge the batteries if they become depleted out on the road. This significantly increases the range of the vehicle, potentially by several hundred kilometers, on top of its normal range of 75 km to 100 km without range extension.
"With around 5,800 alternative fuel and advanced technology vehicles worldwide, sustainability is more than a practice at UPS – it's a value. This vehicle highlights our commitment to integrating new technologies into our delivery fleet," says Peter Harris, sustainability director for UPS Europe. "Finding the best, most responsible fleet solutions to suit our business and serve our customers is an important part of our sustainability strategy."
As people move from rural to urban areas, UPS says it is looking at ways to reduce vehicles' contribution to congestion, noise and air pollution. Geo-fencing technology installed in the TEVVA test truck means it will operate in a purely electric capacity in urban areas to reduce the impact on air quality. Should additional power to the batteries be required, telemetry technology ensures that the range-extending diesel motor operates where the impact on air quality will be minimal, such as on the motorway.
The range-extended electric vehicle was first deployed last September in Barking, East London. It will operate in a suburban environment, covering about 100 km to 150 km per day. The prototype will initially run for 12 months to assess the potential for the vehicle to be used more widely in UPS operations.