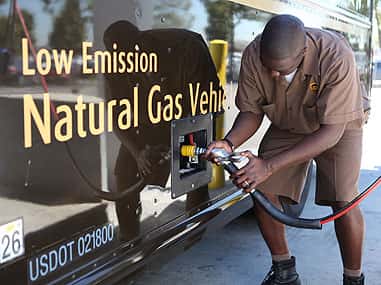 Adding to its list of recent alt-fuel-related news, UPS has announced an agreement to purchase renewable natural gas (RNG) for its vehicle fleet in California from Clean Energy Fuels Corp.
Clean Energy Fuels, co-founded by T. Boone Pickens, produces RNG under the Redeem brand name. Beginning this month, UPS fueling stations in Sacramento, Fresno and Los Angeles will utilize Redeem RNG to refuel tractors and delivery vehicles in UPS' fleet.
UPS and Clean Energy estimate that the three stations will provide approximately 1.5 million gallon equivalents annually of RNG fuel to nearly 400 UPS compressed natural gas (CNG) vehicles in California.
RNG, also known as biomethane, can be derived from various renewable sources, including decomposing organic waste in landfills, wastewater treatment and agriculture.
UPS says this deal represents its plan to significantly expand the company's use of RNG for its fleet; the company currently operates natural gas tractors on RNG in the U.K. through a partnership with Mercedes Benz.
'Renewable natural gas is critical to our effort to minimize UPS' environmental impact while meeting the growing demand for our services,' says Mitch Nichols, UPS senior vice president of transportation and engineering.
'Our "rolling laboratory' approach provides a unique opportunity for UPS to test different fuels and technologies," continues Nichols. "Today's RNG agreement will help mature the market for this promising alternative fuel. This commitment also positions UPS to use RNG in its extensive natural gas fleet, which includes more than 2,500 medium- and heavy-duty vehicles.'
This latest deal builds on UPS' recent announcements to add 64 liquefied natural gas (LNG) tractors to its UPS Freight fleet, deploy 1,400 new CNG vehicles over the next year and build 15 CNG fueling stations.
UPS' global fleet includes nearly 5,500 all-electric, hybrid electric, hydraulic hybrid, CNG, LNG, propane, biomethane and light-weight fuel-saving composite body vehicles.
The company says it has a goal of driving 1 billion miles using its alt-fuel and advanced technology fleet by the end of 2017.