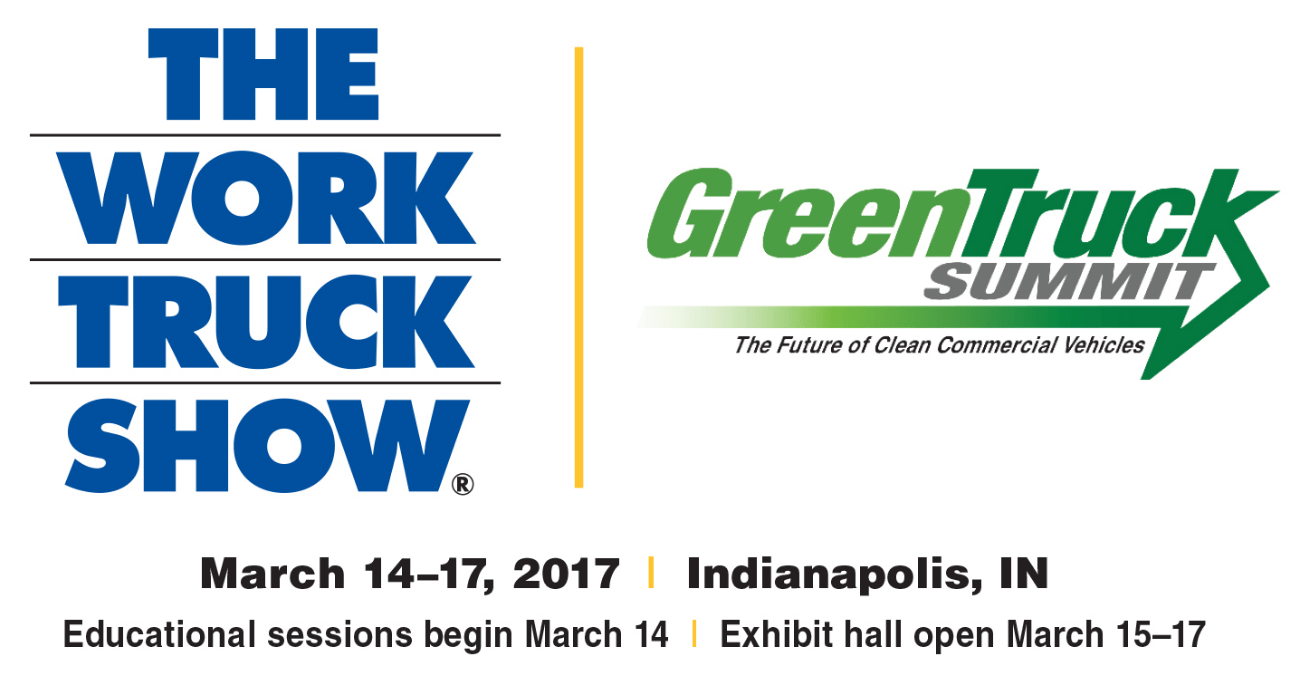 What does "clean energy" mean for work trucks in 2017 and beyond? The answers can be found at the Green Truck Summit 2017, an alternative fuels and advanced technology conference held in conjunction with The Work Truck Show.
At this annual conference, fleet managers, truck equipment distributors, upfitters and truck dealers from around the world learn the clean energy developments and decisions shaping the journey toward the goal of zero-emission transportation and the future of the work truck industry.
Produced by NTEA – The Association for the Work Truck Industry, the Green Truck Summit takes place at the Indiana Convention Center in Indianapolis. As reported, the event will kick off March 14 at 8:30 a.m. with opening remarks and a keynote address, followed by general sessions that run through 5 p.m. Lunch and a networking reception are included.
The Work Truck Show 2017 will run from March 14-17. Educational sessions begin March 14, and the exhibit hall is open March 15-17.
The Green Truck Summit brings together truck manufacturers, governmental and regulatory officials, and fleet management decision-makers to share their experiences, visions and outlook on how the industry can make an immediate impact on greenhouse-gas and criteria pollutant reduction. The Work Truck Show and Green Truck Summit offer educational registrants the opportunity to attend concurrent sessions led by these experts over three days, March 14-16.
"The objective of the Green Truck Summit is to bring together the top people who are leading the thinking and decision-making about clean energy technologies and fuels so they can share their thoughts with the industry and generate some real dialog that will help to move things forward," says Doyle Sumrall, NTEA's managing director.
"Selecting clean technologies and fuel investments are challenging long-term commitments, and many operational decisions have to align with these decisions," he continues. "When you factor in the unknowns of the longevity of low fuel costs and a new U.S. administration, this year's Green Truck Summit will be more impactful, informational and fascinating than ever."
The Green Truck Summit 2017 kicks off with a keynote address by Wilfried Achenbach, senior vice president of engineering and technology for Daimler Trucks North America.
Green Truck Summit general sessions will cover key subjects, including the following:
Government objectives for zero-emission transportation and outlook on future policies;
Fuel and technology options paving the path to zero-emission commercial vehicles;
The effects of Phase Two greenhouse-gas regulations;
Renewable fuels analysis and vehicle lifecycle impacts; and
New products and technology applications for fuel use and emissions reductions.
Attendees can meet industry suppliers and experience the latest technologies and alternative fuel applications by test-driving or riding in the newest commercial vehicles at the Ride-and-Drive March 15 and 16. Participation is free and available on a first-come, first-served basis to all registered attendees.
The Work Truck Show features the newest vocational trucks, vans, vehicle components and equipment from more than 500 exhibitors on an exhibit floor covering more than 500,000 square feet. Attendees can also get their technical and regulatory questions answered by NTEA staff and see the newest efficiency-boosting products in the Truck Productivity and Fuels Pavilion in The Work Truck Show exhibit hall.