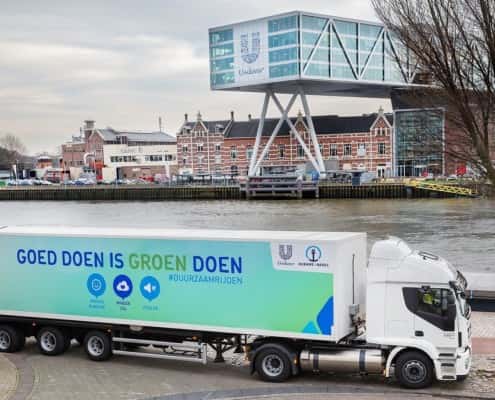 Unilever's logistics organization in Europe is introducing trucks powered by liquefied natural gas (LNG) to its fleet.
"LNG offers a carbon-dioxide reduction of 11.5 percent and a 35 percent reduction of the smog-causing chemicals, nitrogen oxide and nitrogen dioxide emissions, compared to diesel," explains Paul de Jong, logistics transformation and innovation director. "Where it gets really interesting is the way LNG cuts fine particulates – the tiny particles linked to heart and respiratory illness – by 95 percent and noise levels by up to 50 percent."
Unilever says that although the fuel itself is viable, Europe's roads do not offer a sufficiently large network of LNG fueling stations. So, the team embarked on a unique collaborative project. They set up a Unilever-led consortium – known as Connect2LNG – to build five LNG fueling stations in France and Germany, where the infrastructure gaps are greatest.
"With Connect2LNG, we're working with partners from across the value chain, including logistics companies, infrastructure companies and manufacturers," says Mark Rickhoff, logistics transformation and innovation manager. "We're taking a step toward the overall reshaping [of] the road freight industry in Europe, working toward a sustainable transportation future."
The European Commission offered 50% of the funding required to make the Connect2LNG project happen, investing EUR 9 million into the network of LNG filling.