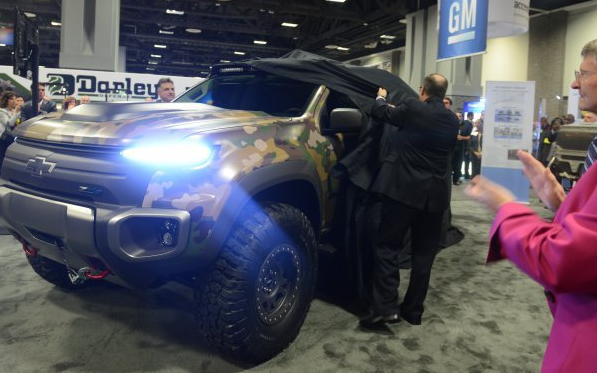 The Army Tank Automotive Research, Development and Engineering Center (TARDEC) and General Motors (GM) have jointly unveiled the ZH2 hydrogen fuel cell electric vehicle (FCEV), an energy-efficient tactical prototype that could one day save lives on the battlefield.
According to the U.S. Army, the ZH2 hydrogen FCEV was rolled out Monday, Oct. 3, during the Association of the U.S. Army Annual Meeting and Symposium.
Kevin Centeck, team leader for non-primary power systems, ground vehicle power and mobility directorate for TARDEC, explains that the ZH2 operates on hydrogen fuel instead of traditional diesel, using much less fuel than traditional tactical vehicles. At idle, it is "extremely efficient," Centeck says, noting that this should reduce the logistics train.
Further, the vehicle's extremely low acoustic signature and radically reduced thermal signature provides additional stealth for soldiers.
The ZH2 took just one year from concept to delivery, based off of a Chevy Colorado platform.
Delivery of the ZH2 from GM to the Army will take place April 1, Centeck says.
Following delivery, user evaluations will take place with soldiers at Fort Benning, Ga.; Fort Bragg, N.C.; and Fort Carson, Colo. Those evaluations, which will take place over the course of a year, will include subjective feedback from soldiers and objective feedback in order to get a full data set.