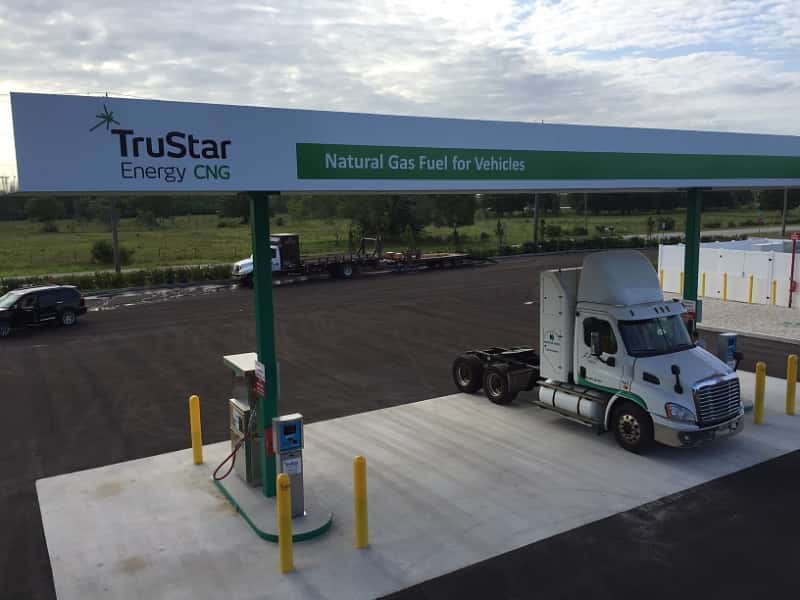 TruStar Energy, a compressed natural gas (CNG) fueling station owner, constructor and service provider in North America, has opened a company-owned public CNG fueling station at 5345 Dividend Dr., Fort Myers, Fla.
Located near the crossroads of I-75 and the Martin Luther King Jr. Boulevard, the CNG fast-fill station is capable of fueling several hundred vehicles a day, delivering stable fuel cost and reduced transportation-related emissions for the Fort Myers area. TruStar says that the station, which is open 24 hours a day and seven days a week, also serves as a midpoint between Tampa and Fort Lauderdale for fleets traveling the I-75 corridor.
"Florida already has a high volume of CNG vehicles on the road today, and even with low diesel prices, we continue to see more fleets switching to CNG from diesel. CNG is cleaner, domestically produced and abundant, and resistant to price volatility," says Adam Comora, president of TruStar Energy. "Close to several major fleets, as well as a heavy traffic corridor, our new Fort Myers station will be a valuable and productive resource for businesses in the area."
According to TruStar, this new station is designed for future expansion and to provide easy access for commercial fleets, as it features four traffic lanes and two dual-hose, fast-fill fueling pumps. The station accepts commercial fuel cards, such as Comdata or Fuelman, as well as all major credit cards.
Able to dispense 11.6 GGE per minute of fuel, the station currently includes two Ariel JGQ300-250 hp compressors, each generating 736 SCFM of gas; one PSB dryer; and two ANGI fast-fill dispensers, according to TruStar.
TruStar Energy recently opened public fueling stations in Orlando, Fla.; Tulsa, Okla.; Houston; and Lafayette, La., as part of an accelerated strategy to expand its services along high-traffic U.S. corridors.