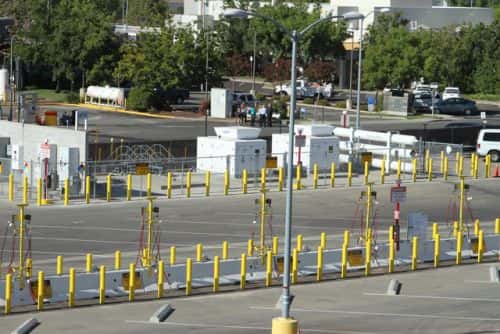 TruStar Energy, a developer of compressed natural gas (CNG) fueling infrastructure, has announced the grand opening of Sacramento County's updated CNG station.
TruStar Energy was contracted to completely refurbish the California county's existing CNG fueling station, which had been in operation since the early 1980s. The new combination time-fill/fast-fill station will be used primarily to provide fuel for the county's refuse fleet, but it will also allow other county vehicles to fuel up.
Chris Celsi, superintendent of the department of waste management and recycling, says that although the county has been utilizing liquefied natural gas since 2004, CNG provides economic benefits that make the switch to CNG a prudent decision.
'We have two yards that we operate out of – but only one LNG station which forces us to fuel a large bulk tanker that we affectionately call 'Orca', which then transports LNG to our second location, where our drivers will then line up to fuel,' explains Celsi. 'One of the big issues is we're then paying our drivers to wait up to 45 minutes for their turn to fuel their vehicle. With the CNG station, our drivers simply plug their trucks in and walk away.'
TruStar says the CNG station is configured to time-fill 40 vehicles simultaneously at night – when electrical power (which runs the compressors) is at its cheapest. In addition, the station is equipped with a fast-fill dispenser, which allows other county fleet vehicles to fill as needed. Although the county doesn't currently have a lot of CNG-powered fleet vehicles, TruStar says the county will be aggressively seeking to expand its CNG fleet now that the new station is online.
'Sacramento is another large municipality that continues to enjoy the many benefits that CNG fueling has to offer,' says Adam Comora, TruStar Energy president and CEO. 'More and more cities and counties throughout the U.S. are reaching out to TruStar Energy for a flexible solution – and we're proud that we can develop strategies that work for them.'