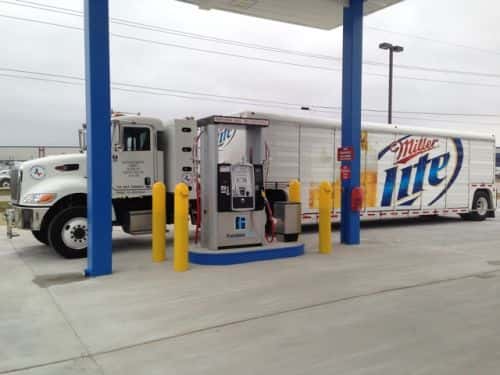 TruStar Energy has completed the construction of a compressed natural gas (CNG) station in Houston for Freedom CNG, which is focused on developing a natural gas refueling network in Texas.
The fast-fill, public-access facility, located at 7155 High Life Dr., features three fueling islands that can accommodate all natural gas vehicles, from light-duty assets to Class 8 trucks. The station has two 250 hp compressors, offering approximately 1,500 GGE of CNG fueling capacity per hour via three dispensers.
'We're excited about this station, as it represents an important dot on the map in terms of available public-access CNG fueling infrastructure,' says Scott Edelbach, vice president of TruStar Energy. 'With more CNG product offerings coming on the market, it's important that infrastructure is available to support the increasing demand that's heading our way.'
Bill Winters, president of Freedom Fuel Operating LLC, adds that Freedom CNG is targeting the development of another 10 natural gas fueling locations within the greater Houston area.