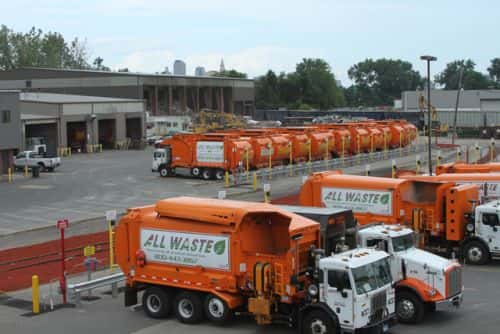 TruStar Energy has announced the opening of a large time-fill compressed natural gas (CNG) fueling station designed and built for All Waste Inc. in Hartford, Conn.
All Waste, one of the biggest privately held refuse haulers in the state, is in the midst of a five-year process of converting 60 of its 80 trucks to CNG. TruStar says about 20 refuse trucks in All Waste's fleet are currently fueled by CNG, with 10 more scheduled for delivery later this fall.
According to All Waste's operations specialist, Derek Alos, choosing to use domestic CNG dovetails with the company's commitment to its environmental program, which includes single-stream recycling for both commercial and residential customers and using vehicles that collect both refuse and recycling to reduce the number of trucks on the road.
"All Waste continues to lead by example. Choosing to fuel our fleet with domestic CNG means our trucks are cleaner and quieter. This is good for our company and for our customers," says Alos. "CNG is less volatile than gasoline and has no potential for ground or water contamination in the event of a fuel release. That's important to us."
"Private and municipal refuse haulers are increasingly turning to CNG to fuel their vehicles," adds Adam Comora, president of TruStar Energy. "Working with All Waste, TruStar Energy built a CNG fueling station that meets their needs today and that can be expanded quickly and efficiently as the company's CNG fleet grows."Â
TruStar Energy says it built the station for All Waste to minimize fueling disruption of drivers' daily routes. The time-fill station consists of a single 200 hp compressor and 60 time-fill fueling posts. In addition, resources for a second compressor have been installed to allow for quick expansion as All Waste converts more of its fleet to CNG.