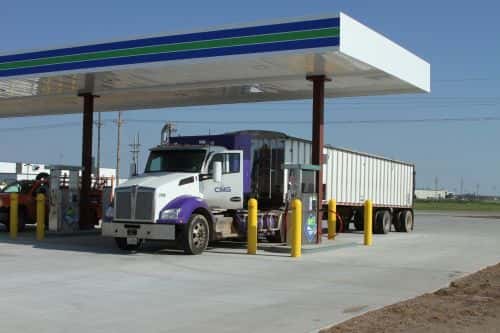 TruStar Energy, a developer of compressed natural gas (CNG) fueling infrastructure, has announced the grand opening of CNG Energy LLC's public-access CNG station in Liberal, Kan.
TruStar Energy says it was contracted to build the station earlier this year with the specific goal of supporting the growing need for CNG fuel for fleets operating out of Liberal, the surrounding Southwest Kansas area and the Oklahoma Panhandle. The company then worked with Black Hills Energy to make the station a reality.
The station features two covered and lighted fueling islands that can accommodate both large commercial vehicles – such as the 12 CNG tractors owned by CNG Energy LLC – as well as smaller private vehicles.
'Our first thought was to develop a private station to support our transport operation, but we realized that other fleets would just go somewhere else – when we had the capacity to provide fuel to them," explains Rocky Ormiston, CNG Energy LLC's managing member. "We felt that it was important to provide the public with a place to fuel as well.'
Ormiston says he understands the benefits of natural gas.
'Two things that we immediately appreciated with natural gas was the cost per MCF and its price stability over time,' he states. 'You can do a lot of projections as far as budgeting is concerned without the threat of price spikes. We're also using a domestic fuel source instead of something coming in on a tanker from overseas.'
The stability that CNG pricing provides is an added benefit fleet owners can count on, especially given the history of diesel fuel volatility, claims TruStar Energy President and CEO Adam Comora.
'With the amount of uncertainty that currently surrounds political events, both here and throughout the world, the stability of foreign oil is anyone's guess," says Comora. "At the same time, the domestic nature of CNG insulates users from price spikes due to world events – making it the perfect fuel for fleet owners trying to control fuel costs and maintain budgets.'
The new CNG station will be open 24/7 and accepts most major credit cards as well as commercial fleet fueling cards.