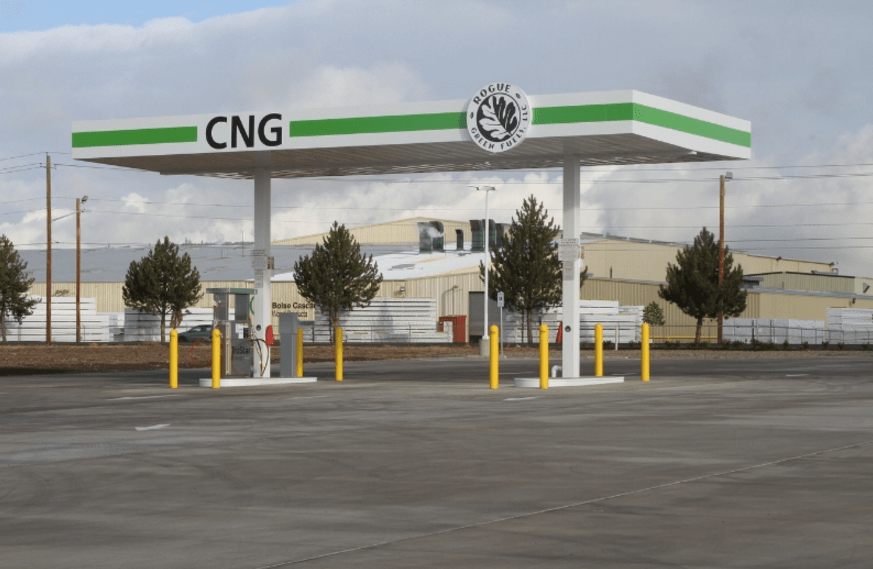 TruStar Energy, developer of compressed natural gas (CNG) fueling stations, says it has opened a new CNG fueling station for Rogue Disposal & Recycling Inc. in White City, Ore.
TruStar says that the CNG station, which will be known as Rogue Green Fuels LLC, is located at 1125 Anthony Way in White City and will serve both the solid waste service provider's growing CNG-fueled fleet and the public. Ground was first broken on the station in February.
"We live in a region where the quality of the air we breathe is an everyday concern for our citizens. We believe that clean air is critical to our communities' long-term sustainability, quality of life and economic success. To that end, we are proud to be part of an effort to bring greater access to cleaner-burning transportation fuels like compressed natural gas to the Rogue Valley," said Lee Fortier, engineering manager for Rogue Disposal.
The fast-fill station has three 200 hp Ariel compressors, packaged by ANGI; a PSB gas dryer; and two ANGI fast-fill dispensers. The station is capable of producing almost 11 gasoline gallon equivalents per minute.
The company anticipates opening its station to the public this fall.
According to TruStar, this new facility will be one of only three publicly accessible CNG fueling stations along a 400-mile stretch of the I-5 corridor, between Chico, Calif., and Eugene, Ore.
"Building out the CNG fueling infrastructure is a vital piece of the puzzle to making cleaner alternative fuels available to leading companies, such as Rogue Disposal. This station makes both financial and environmental sense for the company," said Scott Edelbach, general manager of TruStar Energy. "TruStar Energy is proud to support Rogue Disposal's goals to reduce its carbon footprint and bring CNG to the Rogue Valley."
Rogue Disposal's conversion to a CNG-fueled fleet supports the company's commitment to sustainability, as it already has eight CNG-fueled recycling and waste collection trucks in its fleet of 36 vehicles, with three more on order. The company plans to complete a total conversion of the fleet over the next eight years.