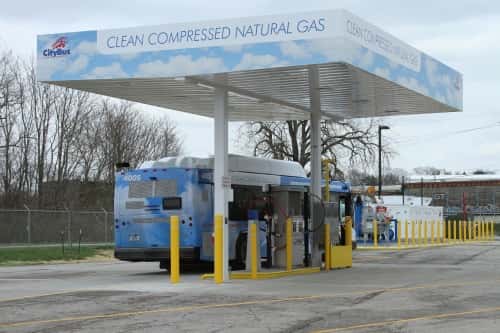 In conjunction with partner Energy Systems Group (ESG), TruStar Energy, which designs and builds turnkey compressed natural gas (CNG) fueling infrastructure, has announced the grand opening of a large fast-fill CNG station for Greater Lafayette Public Transportation Corp. (CityBus).
Located in Lafayette, Ind., CityBus provides transit service to local residents and Purdue University students. The transit company currently runs a total of 10 CNG-powered buses: six that operate on regular routes and four additional buses dedicated to paratransit customers.
Studies conducted by both Ball State University and Purdue indicated that CNG would provide big benefits for CityBus and riders.
"Cost and efficiency drove the decision," following an evaluation of fuel sources, expense, environmental impact and ridership, says CityBus General Manager Martin Sennett.
"Other costs, too, are going up for CityBus, so we had to figure out how to make ends meet," he continues. "We considered the cost of the different fuel options, cost of the buses and the emissions levels and determined CNG was the best option."
Â
TruStar Energy President and CEO Adam Comora says he is pleased that studies by leading universities support the move to CNG.
"The results of these studies reinforces what we tell prospective customers every day," comments Comora. "When you look at the stability of CNG, the positive environmental aspects of CNG, in addition to the price per gallon, and then overlay that with the volatility of foreign oil prices, it's the clear winner."
The CityBus fast-fill CNG fueling station is the second project where TruStar Energy teamed up with ESG, an energy services provider for government, education, healthcare, commercial and industrial entities. ESG works closely with utilities and other partners to design and develop energy infrastructure solutions that promote local economic growth, sustainability and environmental conservation.
According to ESG Business Development Manager Mark Falahee, CityBus plans on gradually converting its 73-bus fleet to CNG via their annual replacement schedule.