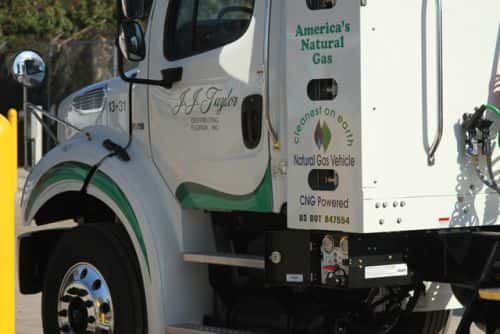 J.J. Taylor Companies Inc., a large beverage distribution firm based in Florida, says it is expanding its fleet of heavy-duty compressed natural gas (CNG) trucks with the coming delivery of 10 new 2014 Freightliner Cascadia tractors.
These trucks are equipped with Cummins Westport Inc.'s ISX12 G engine and the Allison 4000 HS automatic transmission. J.J. Taylor ordered the trucks through Freightliner of Tampa, and they will be delivered by January 2014.
Additionally, J.J. Taylor's CNG refueling network is expanding. TruStar Energy is currently building a new public-access CNG station in Ft. Myers, Fla., that will feature two dual-hose fast-fill dispensers. Construction of that station, of which J.J. Taylor is an anchor fleet, is set to be completed by February 2014.
Longer-term expansion plans call for J.J. Taylor to take delivery of 27 CNG-powered delivery trucks that use Cummins Westport's 8.9-liter ISL G engines. Seventeen of these units will be added in July 2014, and the remainder will come online in January 2015 – all of them will be used on routes in southwest Florida.
All told, J.J. Taylor expects about half of its fleet – representing 80 units – to be powered by natural gas by January 2015. By 2017, 100% of the fleet will be running on natural gas, the company says.