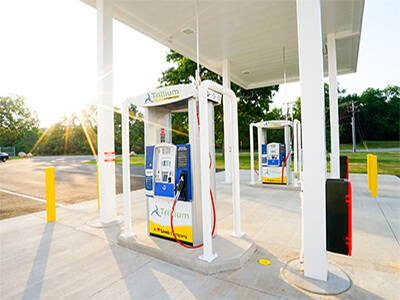 Trillium, a member of the Love's Family of Companies, is planning a comprehensive upgrade for a compressed natural gas (CNG) fueling station in Austin, Texas.
The existing public station, located at 2400 Business Center Dr., is the primary fueling facility for the city's municipal refuse fleet. The improvements will make the station capable of serving the increasing demand of heavy-duty vehicles fueling with CNG, says Trillium.
Trillium operates the station and will design and construct the upgrades. The project is funded in part by the State of Texas through a Clean Transportation Triangle Grant from the Texas Commission on Environmental Quality.
"The City of Austin's CNG station is in a heavily traveled area near Interstate 35 and U.S. Highway 290, which makes it a primary fueling location for the City of Austin's fleet, as well as motorists and heavy-duty fleets traveling between San Antonio and Dallas-Fort Worth," explains Bill Cashmareck, managing director of Trillium. "The city has enjoyed the cost and sustainability benefits of CNG, and we're happy to partner with them in a new way to improve the station to allow more types of customers the same advantages."
To give heavy-duty vehicles access to the facility, the driveway to the station will be widened, and fueling lanes will be redesigned. Other upgrades include a new fast-fill dispenser to serve increased public demand, an additional compressor, a new natural gas dryer and an upgraded control system to allow for remote monitoring. The facility is one of three CNG stations in Austin and, once upgraded, will be one of two that can serve Class 8 heavy-duty vehicles, says Trillium.
Construction is scheduled to begin this fall, and work is expected to be completed in spring 2019. The station will remain open to the public throughout the process.