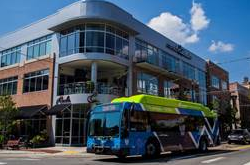 Rock Region METRO, a North Little Rock, Ark.-based transit agency serving 3 million passengers per year, has selected Love's Trillium CNG, part of the Love's Family of Companies, to continue providing maintenance services on its compressed natural gas (CNG) fueling station.
Love's Trillium was originally selected in 2014 to design, build, operate and maintain a new CNG fueling station to fuel the Rock Region METRO fleet.
Bill Cashmareck, general manager of natural gas for Love's, said, "We understand passengers in central Arkansas count on Rock Region to safely get them to work, home or leisure activities, and it's important to us to keep systems performing at their maximum capabilities and to rapidly respond to any request through our 24/7 monitoring service."
Trillium will continue to provide services to the private station that can fuel up to 75 CNG buses daily for the next three years, with options for up to five years. Rock Region METRO, which introduced 15 CNG buses to its fleet in summer 2015, plans to replace its remaining 43 diesel-fueled buses with CNG buses by the end of 2025.
Love's says it operates 10 travel stops in the state of Arkansas. The West Memphis location offers Love's fast-fill CNG for heavy-duty trucks and a CNG fueling option for motorists.