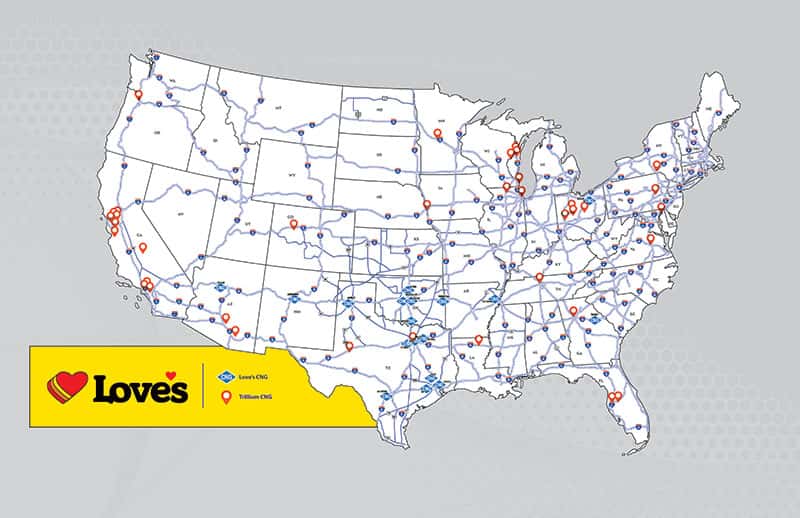 Love's Travel Stops has entered into an agreement to purchase Trillium CNG, a provider of compressed natural gas (CNG) refueling stations. If approved by regulators, the agreement will add 37 public CNG locations to the Love's network, bringing the number of Love's-operated public CNG facilities to 65.
"The acquisition of Trillium CNG provides Love's with a great opportunity to leverage the very best of two companies," says Frank Love, co-CEO of Love's. "Trillium's established network of CNG locations and its deep expertise within the industry will also allow Love's to serve new types of customers in new markets while expanding reach to existing customers."
According to Love's, Trillium provides fuel for thousands of natural gas vehicles daily and has delivered more than 55 million GGE of CNG per year. Trillium was posted for sale by parent company WEC Energy Group late last year.
Love's will begin working with Trillium's client base, which includes transit authorities, school districts and airport fleets, as well as the public. Love's says its existing customers will have the option to fill with CNG at any of the Trillium locations, increasing their options considerably.
"Many of our customers, including fleets and motorists, appreciate the stable pricing that CNG offers, so we've remained committed to developing our CNG network," adds Love. "We also understand the demand for cleaner-burning fuels remains steady, and we want to provide more options for our customers."
The purchase will be made final after regulatory review, and no financial details were disclosed. WEC Energy expects the deal to conclude by the end of the first quarter.