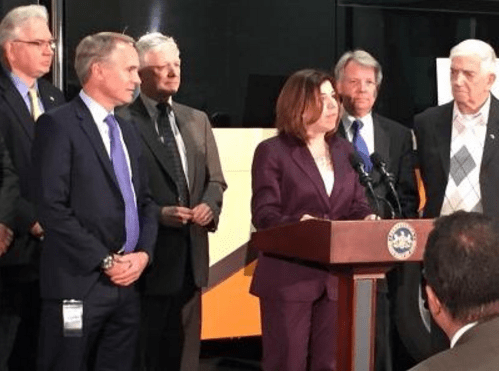 Oklahoma City-based Trillium CNG, part of the Love's family of companies, says it has finalized an agreement to bring 29 new compressed natural gas (CNG) fuel stations to the state of Pennsylvania.
Earlier this year, the Pennsylvania Department of Transportation (PennDOT) selected Trillium for a contract under which the company will design, build and maintain the CNG facilities.
"This is an unprecedented project that will supply CNG to more than 1,600 buses at transit agencies across Pennsylvania," says Bill Cashmareck, general manager of natural gas for Love's. "PennDOT has led the way in proving how valuable public-private partnerships can be. We hope other states use this model so Trillium can help lower the cost of other transit facilities nationwide."
According to Love's, seven of the 29 facilities will be open to the public, with the option to add additional sites in the future. Strategically placed across the state, the public stations are also open to the motoring public, as well as light-, medium- and heavy-duty trucks.
The company adds that the agreement also includes CNG-related updates to existing transit maintenance and storage facilities.
Construction on the first three facilities will begin later this year, and they are expected to open early next year. Stations at the Cambria County Transit Authority in Johnstown and the Central Pennsylvania Transportation Authority in York will serve the transit authorities' fleets of public transit buses and the motoring public. The Centre Area Transportation Authority facility in State College is for private use by its bus fleet. Love's expects all locations to be constructed over the next five years.
Love's Travel Stops operates five travel stops in Pennsylvania, while Trillium operates three CNG facilities in the commonwealth.