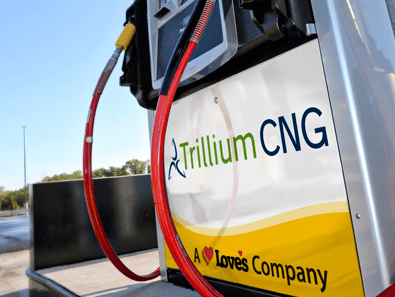 Love's Trillium CNG, part of the Love's Family of Companies, has added two additional compressed natural gas (CNG) stations in Washington and Maryland to its network and has signed an agreement to design a CNG system for an existing station in Pennsylvania.
"Helping our customers achieve their sustainability goals, while [also] improving their bottom line, is our No. 1 goal," says Bill Cashmareck, general manager of natural gas for Love's. "We see CNG as the most environmentally sustainable fuel for heavy-duty fleets, refuse fleets and transit agencies, and we'll keep doing our part to move them toward a cleaner future."
According to the company, one new CNG location is now serving customers in Aberdeen, Md., near U.S. Highway 40 and Old Philadelphia Road. Love's Trillium says it received a grant from the Maryland Energy Administration to help complete the location.
The other station is located in Vancouver, Wash., at 5420 NW Fruit Valley Rd. As reported, the Vancouver facility was designed to primarily meet the needs of Matheson Postal Services and PepsiCo's Frito-Lay division.
The company adds that each station offers two CNG dispensers, able to serve both light- and heavy-duty trucks. Further, both stations are Trillium-owned and -operated and are now open to the public.
As noted, Love's Trillium has scheduled a light-duty CNG location to open in early 2017 at an American Natural convenience store in Sewickley, Pa. The store chose Love's Trillium to design a CNG system for its existing location at 2619 Wexford Bayne Rd., adding two CNG pumps to its current infrastructure. Construction is scheduled to begin late this year.