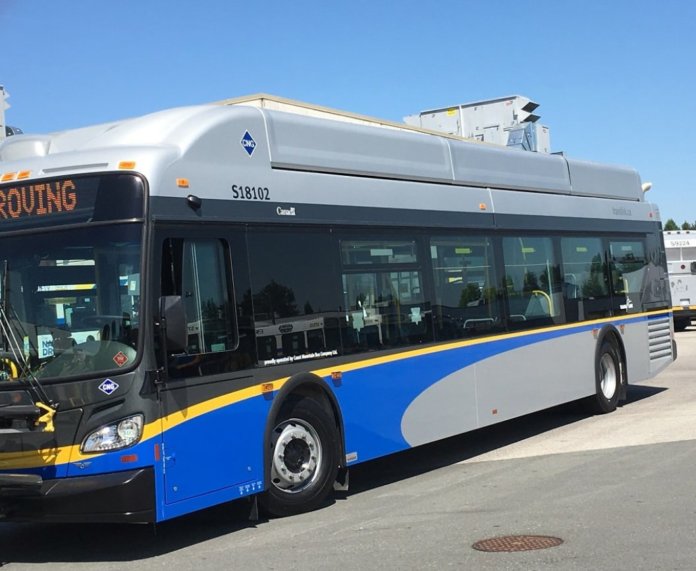 TransLink and FortisBC have announced a partnership that will source renewable natural gas (RNG) for TransLink's natural gas bus fleet.
According to the partners, TransLink is now the first public transportation authority in Canada to use RNG, a certified carbon-neutral fuel, to help fuel its natural gas buses. TransLink, which serves the Metro Vancouver area of British Columbia, has a goal of moving its natural gas fleet to 100% RNG by 2024.
"TransLink is a model for transit authorities and fleet operators across the province for making the switch to low-carbon fuels," states Douglas Stout, vice of president of market development and external relations at FortisBC. "Compressed natural gas vehicles, which make up roughly a fifth of TransLink's bus fleet, have close to 21 percent fewer emissions with a 50 percent reduction in fuel costs versus diesel. RNG could offer the same savings while further reducing emissions by an additional 80 percent versus CNG."
FortisBC and TransLink signed an RNG supply contract that will provide up to 500,000 gigajoules annually within five years. This is expected to provide enough to fuel the existing natural gas bus fleet with 100% RNG. Over the five-year period, the transition to RNG will reduce TransLink's greenhouse-gas (GHG) emissions by 50,000 tons – equivalent to taking 10,000 cars off the road for one year.
"Investing in transit is essential for our region, and the environmental benefits of doing so can't be understated," says TransLink's CEO, Kevin Desmond. "Using renewable natural gas moves us towards meeting our environmental goals and reduces our reliance on fossil fuels. It's partnerships like this that help create a more livable and sustainable region today and into the future."
According to the partners, RNG has significant potential to reduce GHG emissions from transportation, a sector that contributes almost 40% of GHG emissions in B.C. RNG is now included within B.C.'s Low Carbon Fuel Standard and yields higher emissions credits than CNG due to its lower carbon intensity.