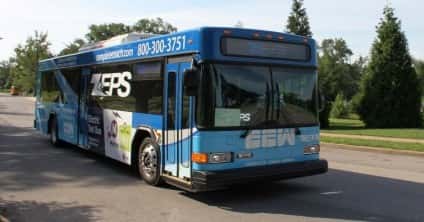 TransIT Services of Frederick County, Md., is adding five new fully electric refurbished buses to its fleet. According to the company, the buses are projected to save hundreds of thousands of dollars over their projected lifetimes. The buses were remanufactured by Complete Coach Works (CCW) from Riverside, Calif., and will be the first fully refurbished all-electric buses to operate on the East Coast. The initial order was placed at the end of 2015.
The buses were originally powered by diesel engines. However, CCW re-manufactures the transit buses to like-new condition by replacing the diesel engine with a Zero-Emissions Propulsion System (ZEPS), enabling them to run up to 120 miles on a single charge.
According to CCW, the ZEPS technology will reduce air pollution, provide a quieter ride while running on county roads and city streets, and will save the county money on fuel costs and maintenance. CCW says that the electric buses are projected to save TransIT nearly $470,000 each on fuel and maintenance costs over the 12-year life of the vehicles.
"We will evaluate the electric bus performance and cost savings regularly. If they prove to be all we expect, we hope to order additional electric buses over each of the next four years if funding is available," says Division Director Nancy Norris.