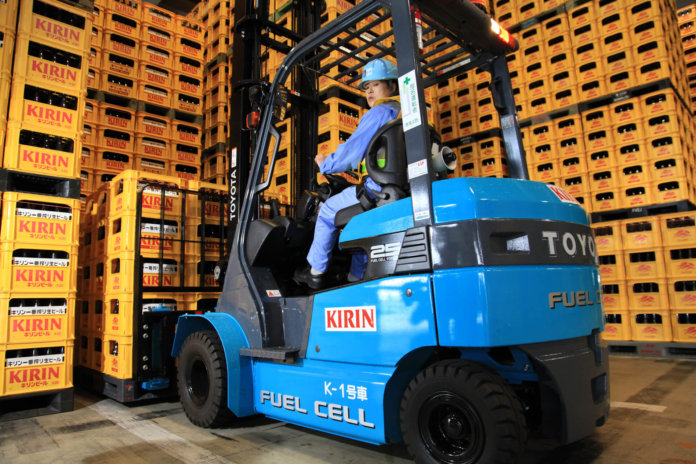 Together with its partners, Toyota Motor Corp. has announced the start of full-scale operations for the Low-carbon Hydrogen Technology Demonstration Project, which aims to implement and evaluate a low-carbon hydrogen supply chain that will utilize hydrogen produced from renewable energy in facilities along Tokyo Bay to power fuel cell forklifts.
According to Toyota's announcement, a system has been created for using electricity generated at the Yokohama City Wind Power Plant to electrolyze water to create low-carbon hydrogen, which is then compressed and stored. The produced hydrogen will be transported in a hydrogen fueling truck to a fruit and vegetable market, a factory, and warehouses, where it will then be used in fuel cells to power forklifts.
As noted in the corporate release, 12 fuel cell-powered forklifts will operate at the four selected locations to demonstrate their viability in a range of operating conditions.
Toyota says the creation of this hydrogen supply chain in cooperation with local partners is expected to reduce CO2 emissions by at least 80% when compared with a supply chain using forklifts powered by gasoline or grid electricity.
The automaker says the ultimate goal of the project is to establish a hydrogen supply chain, analyze costs and estimate potential CO2 reductions that can be achieved with a wider, full-scale supply chain in the future.
For more information and a project overview, click here.