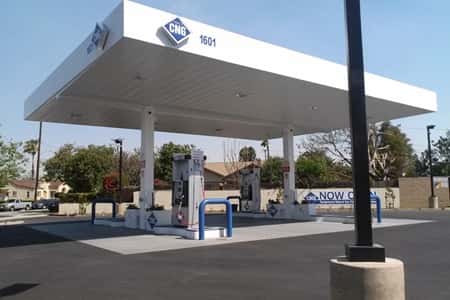 U.S. Gain is partnering with TIMCO CNG to add the GAIN Clean Fuel compressed natural gas (CNG) brand to both of TIMCO CNG's public-access fueling stations in California.
One station is in Santa Ana at 1601 E. First St., and the other is in Inglewood at 11144 S. La Cienega Blvd., near Los Angeles International Airport and at the intersection of I-405 and I-105. With the agreement, GAIN Clean Fuel pumps will be added, and the locations will be co-branded.
TIMCO opened the Santa Ana location in April 2014 and the Inglewood location this summer. The stations provide CNG for shuttle providers that service parking, hotels and taxis and for local municipal and California state agencies that operate in the vicinity of the airport.
With the addition of GAIN Clean Fuel, the sites will be added to U.S. GAIN's international network of stations. These will be the second and third GAIN Clean Fuel stations in California; the first opened in Madera last year.
Photo courtesy of TIMCO CNG