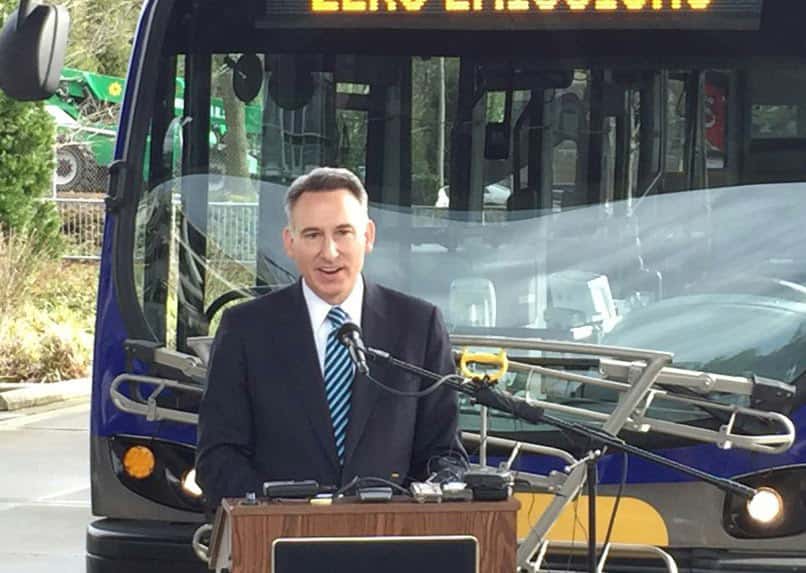 King County, Wash., has launched Metro Transit's first all-electric battery-powered buses in Bellevue, adding to what it says is already one of the greenest fleets in the U.S.
"We're taking advantage of the latest clean-energy technology to achieve our goal of an all-electric and hybrid fleet in three years," says Dow Constantine, King County Executive. "Riders on the Eastside will have the opportunity to try out our all-electric, zero-emission buses that demonstrate our commitment to reducing fuel costs and carbon emissions."
The electric bus is the first of three that Metro will test this year. Constantine set a goal for Metro to increase transit service through 2020 with no net increase in greenhouse-gas emissions.
The 38-seat prototype buses, manufactured by Proterra Inc., have a composite body and can travel 23 miles or more between charges. Batteries take 10 minutes or less to charge. The prototype buses are expected to get the equivalent of 15 MPG more than a regular hybrid bus.
Software helps position the bus below a charging head that transmits electricity wirelessly. When the battery is fully charged, the driver is alerted and drives away.
According to data collected by other transit agencies operating the Proterra bus, the battery-powered vehicles generate a cost savings of 49% per mile compared with a hybrid bus and a 40% savings over a diesel bus.
Metro will test the performance and efficiency of the new technology for up to a year on local streets and roads to determine whether battery-electric buses can be a future replacement option for its remaining diesel-powered coaches.
The three battery buses were paid for in part with a $4.7 million federal grant. Metro is pursuing $3.3 million in additional grants to buy six more battery buses and a second charging station, which would enable Metro to completely convert the two Eastside bus routes to 100% electricity.
With the three new battery buses, nearly 70% of Metro's fleet now comprises either all-electric or hybrid-electric vehicles.