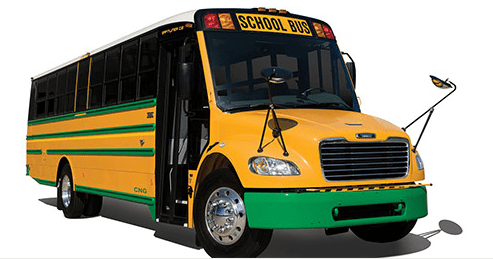 Thomas Built Buses, along with Freightliner Custom Chassis Corp., has officially launched the Saf-T-Liner C2 compressed natural gas (CNG) school bus, which, the company asserts, will be the first to feature a CNG engine on the Type C product.
A number of school districts have already shown interest in the new bus, and now orders can officially be placed.
According to Thomas Built Buses, the Saf-T-Liner C2 CNG utilizes the 6.7-liter, dedicated natural gas Cummins Westport ISB6.7 G engine and an Allison 2000 series transmission. Further, the new bus is California Air Resources Board- certified and exceeds U.S. Environmental Protection Agency 2013 emissions requirements.
"Today, we are proud to open orders for the new Saf-T-Liner C2 CNG. Since we launched the Saf-T-Liner HDX CNG 20 years ago, we've seen how efficient and economical CNG can be for our customers," says Caley Edgerly, president and CEO of Thomas Built Buses. "We are pleased to take our ever-popular C2 model and upfit it to be used with compressed natural gas for the many school districts which are looking for a lower-priced, cleaner and increasingly abundant fuel supply."
Thomas Built's green vehicle lineup also includes the Saf-T-Liner C2 Propane, Saf-T-Liner HDX CNG, Minotour Propane and Minotour CNG.
Several school districts, including North Kansas City School District and Blue Springs School District in Missouri, already have committed to being among the first to purchase the new Saf-T-Liner C2 CNG school buses when production begins next month.