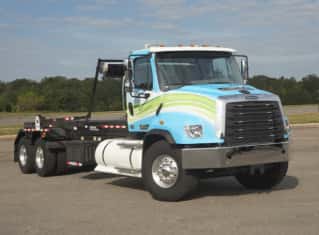 Freightliner Trucks has announced that Cummins Westport Inc.'s 11.9-liter ISX12 G natural gas engine will be available as a factory-installed option for the Freightliner 114SD severe-duty truck next year.
Cummins Westport's 8.9-liter ISL G natural gas engine has been an option in the 114SD since 2011.
The 114SD is traditionally used for applications such as mixers, crane trucks, sewer vacs and other heavy-duty fleet needs. The ISX12 G natural gas engine features ratings of up to 400 hp and 1,450 lb.-ft. of torque, and its operates on compressed natural gas (CNG) or liquefied natural gas (LNG). Freightliner's factory-installed back-of-cab CNG tanks will be available in 60 DGE and 75 DGE configurations, the company says.
'The 114SD, when paired with the Cummins Westport ISX12 G heavy-duty natural gas engine, will provide our vocational customers with another green option for their toughest jobs,' says Mary Aufdemberg, director of product marketing for Freightliner Trucks. 'Our entire natural gas product line – from the 114SD to the M2 112 and Cascadia 113 – is not only environmentally-friendly, but durable, productive and powerful.'
The 114SD features a chassis engineered for simple body upfits and is available with a wide range of vocational rear suspensions and frame options up to 4.4 million RBM. A heavy-duty frame, steel-reinforced aluminum cab and flexible specs 'make the 114SD ideal for the toughest jobs,' the company says.