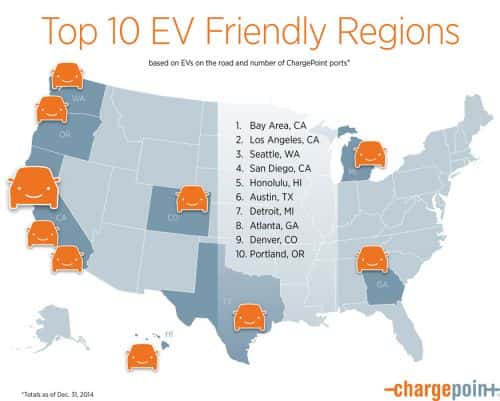 ChargePoint, a provider of electric vehicle (EV) charging infrastructure and services, has released its annual list of what it deems the top 10 friendliest metropolitan areas in the U.S. for EV drivers.
Equating for population differences, the company scored the cities based on the number of EVs on the road and the number of charging stations available on the ChargePoint network as of Dec. 31, 2014.
According to ChargePoint, the top 10 EV-friendly metropolitan areas are as follows:
1. San Francisco Bay Area (including San Francisco, Oakland and San Jose)
2. Los Angeles
3. Seattle
4. San Diego
5. Honolulu
6. Austin, Texas
7. Detroit
8. Atlanta
9. Denver
10. Portland, Ore.
ChargePoint says that although Los Angeles leads the U.S. in terms of registered EVs (nearly 57,000), the San Francisco Bay Area takes top billing after accounting for population differences (more than 48,000 EVs).
Austin fell to the No. 6 ranking after having held the No. 4 spot on ChargePoint's 2013 list; Washington, D.C., and Boston fell from the 9th and 10th spots, respectively; and EV infrastructure growth and registrations propelled Atlanta and Denver into the top 10.
"Although the West Coast continues to lead the nation in EV friendliness, the fact that cities like Atlanta and Denver broke into the top 10 demonstrates that this is not [a] regional trend, but that our nation is quickly transitioning from gas-powered cars to EVs," says ChargePoint CEO Pasquale Romano. "In cities across the country, it's becoming easier than ever to drive an EV – and that's good news for our industry and for our environment."