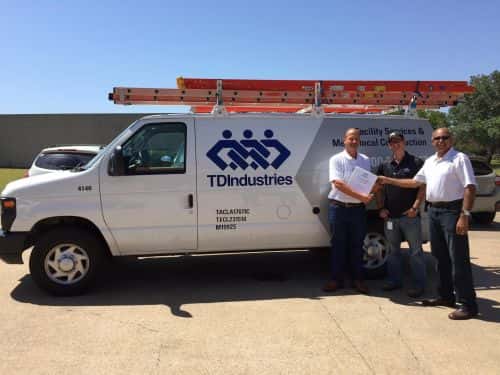 TDIndustries, a Dallas-based mechanical construction and facility service company, has launched a compressed natural gas (CNG) vehicle pilot program to determine the viability of the alternative fuel for its large fleet.
According to Jason Cinek, senior vice president of TDIndustries, the company tapped Dallas-based NGV Texas Inc. to convert two 2014 Ford E-350 service vans to run on a dual-fuel CNG system. The two pilot vehicles will be used to perform daily service operations out of TDIndustries' Fort Worth, Texas, office.
Cinek notes there are currently two public-access stations within 10 miles of its Fort Worth facility.
"We have considered the introduction of in-house CNG infrastructure; however, we intend to wait until it makes overall sense to do so," he notes.
The company says the CNG pilot program is an effort to help cut operating costs, improve air quality, increase efficiency and utilize the abundant natural gas resources in Texas.
"Our intent is to understand both from an operational and economic standpoint what benefits TDIndustries should expect when we consider further deployment across our service fleet of about 400 vehicles," states Cinek. "With that number of vans operating throughout the Southwest region of the United States providing installation, maintenance, and service of commercial/industrial systems, the impact of utilizing CNG could be significant for our community and our bottom line."
Photo courtesy of TDIndustries: One of the company's two converted service vans.