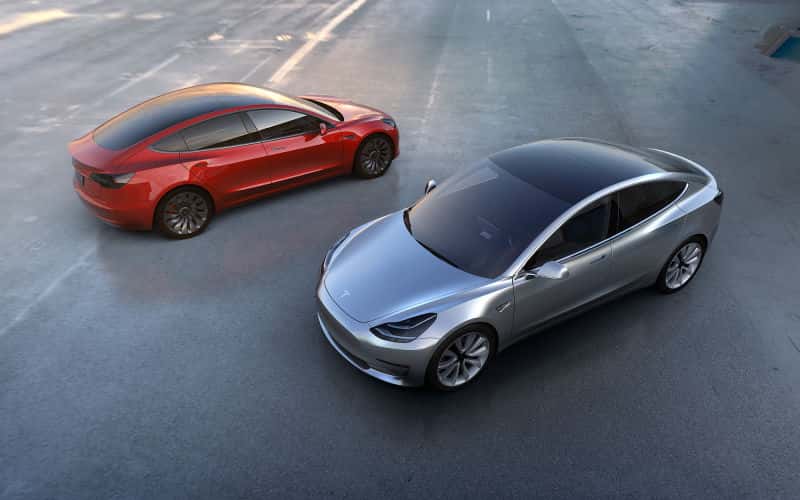 It has been a long and difficult road for Elon Musk and Tesla Motors, a company that has defied convention and expectations time and time again. Musk has always maintained that his investment in electric vehicles (EVs) was about more than just making money; it was about battling climate change and making the world a better place.
Last night, Musk revealed what is arguably his magnum opus – the Tesla Model 3. A practical, everyday EV for the masses, the Model 3 is the culmination of what Musk called his "master plan" for proving that EVs could be fast, fun and practical.
It all began a decade ago with the Tesla Roadster, the low-volume, high-priced electric sports car based on a highly modified Lotus chassis. Priced north of $100,000, Tesla only produced a little over 2,000 Roadsters while the company worked on the design of the Model S.
Launching with a 265-mile driving range and a $50,000 starting price after tax credits (at least initially), the Model S has gone through several iterations. This includes the P90D, which can blast from 0 MPH to 60 MPH in just 2.8 seconds with the "Ludicrous Mode" option and a price tag that can be optioned past $140,000. It has won awards and accolades too numerous to count, and Tesla has managed to sell tens of thousands of them, prompting much of the auto industry to reconsider what is possible with EVs.
Then came the long-delayed Model X and its nifty-but-problematic falcon-wing doors. Deliveries of the Model X began at the end of 2015, with over 20,000 reservation holders in line at last count and an estimated time-to-delivery of over a year.
The Tesla Roadster, Model S and Model X have all financed the design of the Model 3. In a presentation that lasted almost exactly 30 minutes, Musk briefly discussed CO2 emissions, the perils of climate change and his master plan before finally unveiling the Model 3 to raucous cheers and applause.
Musk only gave out the most important details, chief among them a promise of a U.S. Environmental Protection Agency mileage rating for at least 215 miles, even on the base Model 3. The Tesla Motors CEO also announced that "Supercharging" would be free, and the company would double the number of Superchargers worldwide from 3,600 to 7,200. Autopilot will also be a standard feature, as well as a glass roof and a "0 to 60" second time of less than six seconds. The chassis is a combination of steel and aluminum, and the Model 3 uses almost none of the components found on the Model S and Model X. The Model 3 will be available in both rear-drive and dual-motor, all-wheel-drive configurations.
Most importantly of all, Musk is sticking to his promise of a $35,000 price tag and proclaiming that this will be the best car in its price range, even without a single additional option.
After the Model 3 finally rolled on stage, Musk had little left to say. Before leaving though, he announced that Tesla already had over 115,000 reservations. The Tesla Twitter feed updated shortly after the reveal, and global orders had surpassed 150,000 orders. In the U.S., a reservation costs $1,000, and in many other countries, the cost is even higher. Still, people lined up for blocks around some Tesla stores in order to make a reservation.
To put that in context, it took four years for the Nissan LEAF to crest 150,000 sales worldwide on its $30,000, 84-mile EV. Tesla managed to get the same number of cash reservations in 24 hours, and that number will almost surely grow.
Musk has given himself a little less than two years to deliver on his grandiose vision of an all-electric future, but it's fair to say that he's off to a good start.