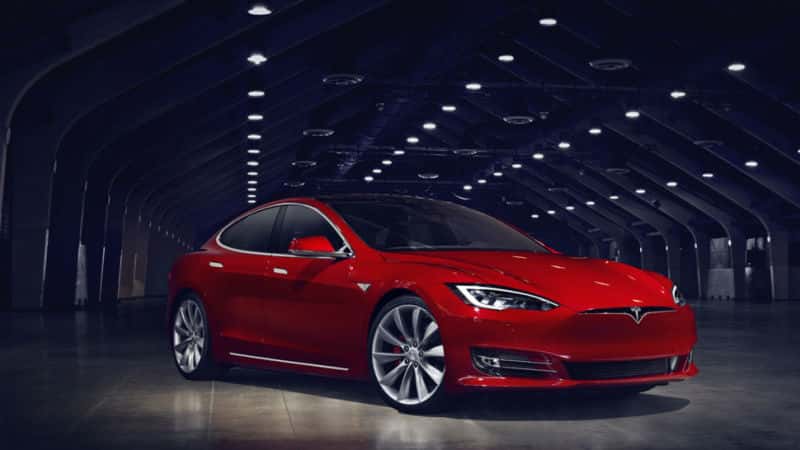 Tesla Motors has updated the Model S electric sedan with a new front fascia that more closely resembles the Model X SUV and the recently revealed Model 3. In addition to its new look, the Tesla Model S has been updated with faster charging, interior improvements and a HEPA air filtration system.
The Tesla Model S now comes with a 48 amp onboard charger – up from 40 amps – allowing it to charge about 20% faster. The Model S also gets two new wood interior trims in an effort to improve what some critics have called a lackluster cabin for a luxury car. In addition to the new front fascia and revised headlights, Tesla also tweaked the rear end to give it a fresher look.
The Fremont, Calif., automaker has also re-certified the 90 kWh battery pack dual motor drive Model S. The Model S 90D can now go up to 294 miles on a single charge, according to the U.S. Environmental Protection Agency testing standards – an increase of about 10%. The Model S 70D, meanwhile, is still rated at 240 miles per charge.
With these new features comes a higher price, with the base Tesla Model S now starting at $71,500, a $1,500 increase. Tesla also introduced a 75 kWh battery pack for the Model X, adding about 17 miles of range to the base Model X. The 75 kWh battery replaces the 70 kWh option and is rated at 237 miles per charge.
Tesla increased the price of the Model X from $80,000 to $83,000 to reflect the increase in battery capacity, though the electric SUV's top speed decreases from 140 MPH to 130 MPH.