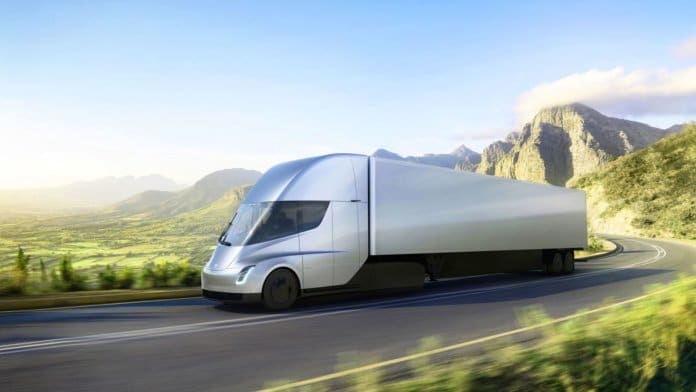 Although Tesla has been racking up pre-orders for its all-electric truck in North America, interest in the new Tesla Semi has also spread to the Middle East, with integrated environmental and waste collection company Bee'ah having announced a 50-truck order for its transport fleet.
The announcement was made in line with Bee'ah's participation at the World Future Energy Summit, which is taking place in Abu Dhabi this week. Based in Sharjah, UAE, Bee'ah claims the order represents the first fleet of Tesla Semi trucks slated for the Middle East, and the company says it placed its order immediately after Tesla unveiled the vehicle in November to underline Bee'ah's commitment to sustainability across its entire operations.
Bee'ah says the incoming Tesla Semi trucks, which enter production in 2019, will primarily be used for waste collection and transportation, including transportation of materials for recovery. They will also add to Bee'ah's growing fleet of vehicles, which total over 1,000 today and include ones that run on compressed natural gas and biodiesel, as well as existing electric vehicles.
"As a torchbearer for environmental responsibility, Bee'ah's move to bring the first and largest fleet of Tesla Semi trucks to the region is a significant milestone in our operational evolution," comments Khaled Al Huraimel, group CEO of Bee'ah. "Sustainability is at the very core of what we do, and the pursuit of this feeds into every level of our organization. That is why we have made this investment in our transportation fleet, which occurs with a view towards a larger goal – achieving the objectives of the National Agenda for UAE Vision 2021."
Bee'ah notes this latest involvement with U.S.-based auto, energy storage and solar company Tesla isn't its first. Earlier this year, Bee'ah made a major investment to fit Tesla's Powerpack battery technology at the company's new headquarters complex, which is currently under construction in Sharjah. The Tesla batteries will store solar energy to power the building, and any excess electricity generated will be fed directly into Sharjah's main power supply grid.
Bee'ah joins a growing list of companies, including UPS, Wal-Mart, PepsiCo and Anheuser-Busch, that have announced pre-orders for the Tesla Semi.