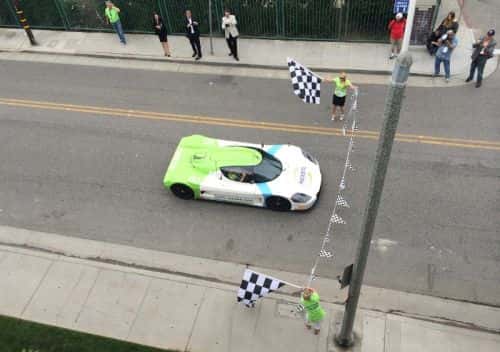 Renewable diesel producer Neste and partner CLP Motorsports are touting the successful completion of the previously announced 'One Tank Across the USA Challenge.'
Earlier this month, Neste revealed plans for a team of motorsport enthusiasts to drive a custom-built car from Florida to California on just one tank of Neste NEXBTL renewable diesel fuel. On June 26, one of the team drivers, Tanner Foust – an X-Games and Rallycross champion – crossed the finish line in Santa Monica, Calif.
According to Neste, the trip was the brainchild of Pat O'Keefe, CEO and president of CLP Motorsports, vice president at Golden Gate Petroleum and a keen racecar driver and enthusiast. Golden Gate started selling NEXBTL renewable diesel to its fleet customers in the San Francisco area in 2013.
The 2,507-mile journey took a total driving time of 37 hours and 2 minutes. The trip was made with a CLP-developed Superlite Coupe (SLC) car powered by a modified Volkswagen 1.9-liter TDI diesel engine. According to Neste, the vehicle has the aerodynamics necessary for maximum efficiency and is enhanced by a lightweight aluminum monocoque chassis and fiberglass body. The SLC also has all of the handling of a racecar, yet it is street legal.
Neste says that when the car was finally refueled in Santa Monica, the fuel consumption for the cross-country journey was determined to be 37.6 gallons of NEXBTL renewable diesel – yielding an average fuel consumption of 66.7 mpg. The company also says it's estimated that the use of NEXBTL in the SLC resulted in a greenhouse-gas reduction of about 75% compared to a journey being done with a 'regular' car running on petroleum diesel.
NEXBTL, produced from bio-based raw materials, can replace petroleum diesel on a drop-in basis due to having the same chemical properties as ultra-low-sulfur diesel, according to Neste.
'Motorists expect a lower-carbon footprint as well as lower tailpipe emissions from renewable fuels, without compromising high quality and good performance. We made this unique trip to show that advanced biofuels, such as NEXBTL renewable diesel, meet these requirements,' said Neste's Kaisa Hietala.