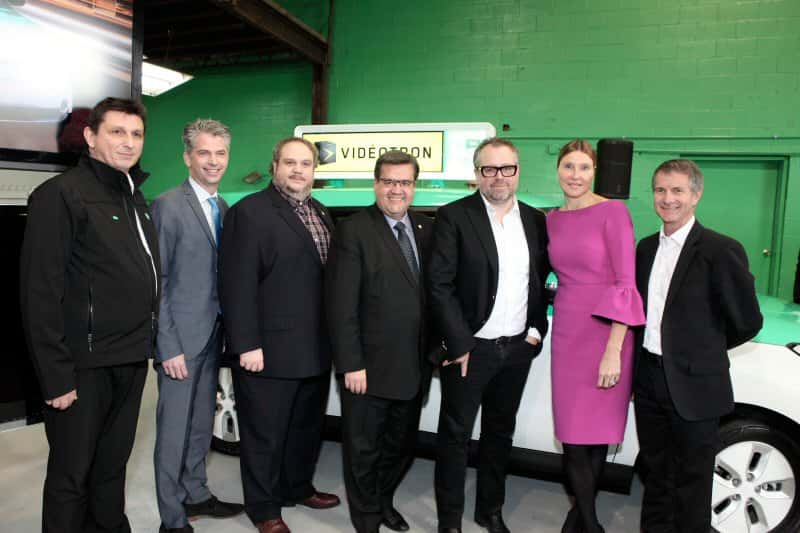 Taxelco, a company founded by XPND Capital, has unveiled its new all-electric taxi project, Teo, and will start putting its vehicles on the streets of Montreal on Nov. 26.
"With Teo, we plan to show that a green project can be economically, socially and environmentally beneficial, while respecting all regulations," states Alexandre Taillefer, entrepreneur, investor and managing partner of XPND Capital. "In launching this service, we're doing our part to reduce greenhouse gas emissions and we're raising the visibility of Montreal, which today joins the select club of cities with an electric taxi service."
Montrealers will be able to choose from two types of electric taxi service: Teo Taxi, a fleet of green and white Nissan Leaf, Tesla and Kia Soul vehicles; and Teo Black, a fleet of luxurious Teslas.
"The two services will meet Montrealers' different transportation needs," says Marc Petit, CEO of Taxelco. "Teo Taxi offers a unique and highly personalized service that encourages interaction between the driver and customer. Teo Black caters mainly to a business clientele, with competitive pricing that will make it a popular service across the city."
Before it officially becomes part of daily life in Montreal in mid-March 2016, Teo will undergo a three-month testing period. A fleet of 50 taxis operated by some 50 drivers will be seen around the city starting Nov. 26, and Teo is currently seeking 500 Montrealers with a smartphone who would like to try out the functionalities of the mobile app and new service.
"As with any high-tech product, real-life performance is a source of crucial information," notes Petit. "This trial run will allow us to test both the technical and technological aspects of the project, in addition to showing Montrealers how Teo is setting a new standard."
Ultimately, Teo aims to bring its fleet to 1,000 green taxis by 2017.