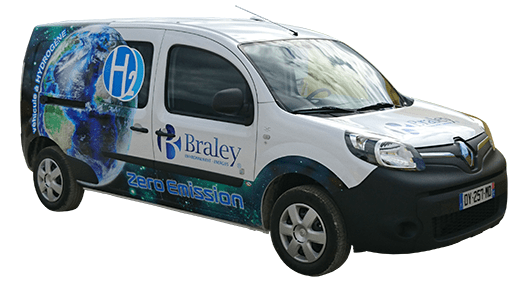 Symbio, a producer of hydrogen fuel cell systems for transportation, says it has delivered 150 commercial hydrogen-electric vehicles, which have traveled a combined 220,000 miles.
The French company will be introducing its green mobility solutions and how it can make a difference to improve air quality in urban areas at Sands Expo in Las Vegas from Jan. 5-8, 2017.
With this move, the company has deployed the largest hydrogen fleet of commercial H2 vehicles available, thanks to support from its partners Michelin and ENGIE. Symbio's core mission is to engineer complete fuel cell systems for electric vehicles, from prototyping to product.
Symbio offers an end-to-end hydrogen fuel cell system compatible with different usage-cycles and types of vehicles (commercial vehicles, vans, buses, trucks and boats) and from 5 kW to 300 kW.
The Kangoo ZE-H2 is based on the Renault Kangoo ZE Maxi, combining a 22 kWh lithium-ion battery pack with a 5 kW hydrogen fuel cell range extender and reaching a range of 186 miles, or 300 kilometers.
"We are very pleased to be leading this hydrogen momentum in Europe and to introduce our 100 percent zero-emission and 100 percent electric mobility solution to Vegas. This solution is a real pollutant-free alternative, improving air quality," comments Pierre-Yves Le Berre, vice president at Symbio.
To highlight its ambition to spread its green mobility solution worldwide, Symbio will unveil a new H2 vehicle with 500 km of autonomy in March 2017 in Tokyo.