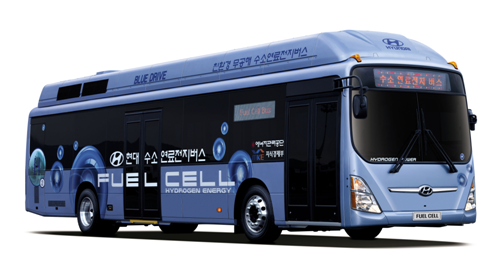 South Korea's Finance Minister Yoo Il-ho has announced plans to deploy thousands of hydrogen fuel cell buses in a partnership with Hyundai, reports the Chosun Ilbo. The hydrogen fuel cell buses will replace about 26,000 compressed natural gas (CNG) buses that Korea currently uses.
The plan calls for existing CNG stations to deploy hydrogen fuel pumps and aims to encourage companies to develop major fuel cell components, including sensors and storage tanks. Approximately 200 hydrogen filling stations will be deployed nationwide, and the hydrogen fuel cell buses with replace the CNG buses at a rate of about 2,000 vehicles per year.
Hyundai's second-generation hydrogen fuel cell buses entered service in South Korea in 2010 with seating for 26 passengers and a driving range of 360 km. The 200 kW fuel cell stack allows for a maximum top speed of 62 mph, a 30% improvement over the previous generation of hydrogen fuel cell buses.
Hyundai launched its Tucson Fuel Cell vehicle for consumers in 2014, and a small fleet of the hydrogen-powered crossovers serve as tourist taxis in Paris. The Korean automaker is also hedging its bets with the recent announcement of the Ioniq, a new sedan that offers conventional hybrid, plug-in hybrid and all-electric variants.