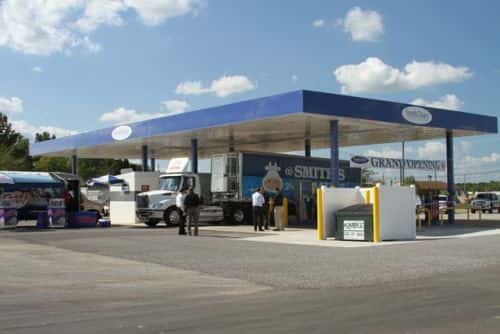 This week, Vocational Energy and Smith Dairy Products Co. officially opened a new public-access compressed natural gas (CNG) refueling station near Canton, Ohio. Smith Dairy is the anchor fleet for the station, which produces 420 DGE (diesel gallon equivalent) per hour. Vocational Energy designed and built the facility.
Smith Dairy currently has seven CNG-powered tractors from Freightliner in service, and the company is planning on acquiring only new CNG trucks, going forward.
'We commend Smith Dairy for understanding the importance of domestic natural gas – and investing in infrastructure that will benefit others in the community who are looking to move away from foreign oil,' says Scott Edelbach, president of Vocational Energy.
'The owners really looked 'big picture' with regard to the station and wanted to build a station that was not only good for Smith Dairy, but one that was also beneficial to the industry and the environment,' adds Smith Dairy's Rebekah Shipper.
The station features two Ariel JGQ two-throw, four-stage reciprocating compressors packaged by ANGI Energy Systems. The natural gas is brought into the system from a Dominion pipeline and compressed to approximately 4,500 psi, according to Ariel Compressors.
Fontana, Calif.-based Vocational Energy is a unit of Trucks.com, a business that offers new, used and rental trucks, as well as truck parts and related products and services.
Photo courtesy of Vocational Energy