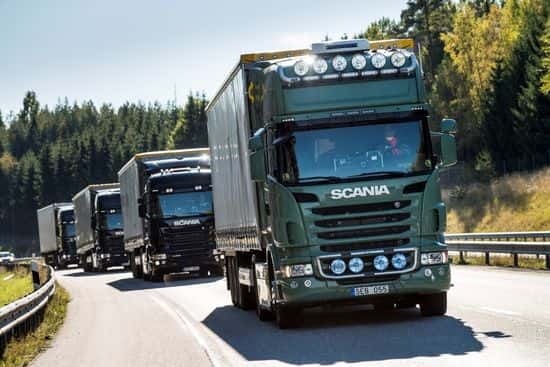 Six automated truck platoons from six different original equipment manufacturers (OEMs) will depart on the European Truck Platooning Challenge, a pan-European challenge to demonstrate connected truck and platooning technology, reports Green Car Congress. Scania, Daimler, Volvo, IVECO, MAN and DAF will all participate in the truck platooning challenge, which culminates at the Port of Rotterdam in the Netherlands on April 6.
Truck platooning involves a convoy of connected trucks that drive and react as a single unit. Acceleration and braking are linked and controlled by computers, allowing vehicles to drive much closer together without sacrificing safety. This increases both fuel economy and driving space on many roads.
Each company will demonstrate its own truck platooning technology, departing from its home base or production facility on the way to Rotterdam. The platooning challenge will be limited to highways, and local conditions will determine whether the platooning technology can be utilized for certain portions of the routes. Scania has the longest route, crossing four borders and covering 1,243 miles from its departure point in Sodertalje, Sweden.
Daimler recently announced it was investing more than $500 million into its truck platooning technology, and studies suggest that more than 7.7 million truck platooning systems could be on roads around the world by 2025.