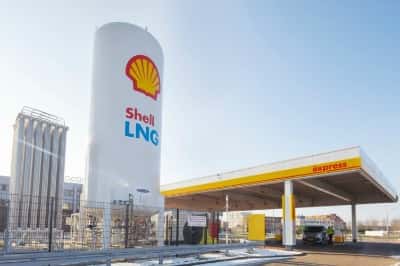 Building on its ongoing work to install liquefied natural gas (LNG) stations in North America, Shell has officially opened its first European LNG fueling facility. The new station is located in Rotterdam Waalhaven, the Netherlands, near a busy truck route that runs through the Netherlands to Belgium, France, and the Ruhr Area of Germany.
The company says the LNG station has a capacity of 70,000 liters of LNG, which is enough to fuel around 170 trucks per day. Customers at this first site will include waste-specialist SUEZ Environnement NL, Vos Logistics and ABS Trucking.
As customer demand grows, Shell plans to launch additional LNG sites in the Netherlands.
"LNG can be a strong option for fleet owners," says Lauran Wetemans, Shell's general manager for Downstream LNG. "We expect LNG will form a bigger part of the sustainable transport fuel mix in the future, and we continue to collaborate with engine manufacturers, customers and policymakers to encourage the use of LNG as a transport fuel."
Shell debuted its first-ever LNG refueling station in Calgary, Alberta, in 2013, and has a second operational in Edmonton, Alberta.
Furthermore, the company has an agreement with TravelCenters of America LLC to develop a large network of LNG refueling lanes for heavy-duty road transport customers along the interstate highway system in the U.S. The first of these LNG refueling stations was opened in May 2014 in Ontario, Calif.