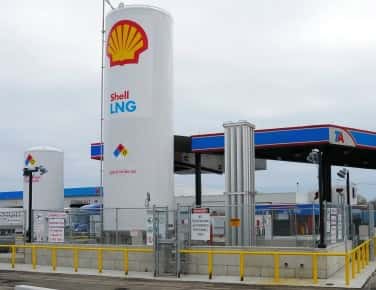 Shell has opened new liquefied natural gas (LNG) truck fueling lanes at two more TravelCenters of America LLC (TA) locations.
Located in Baytown, Texas, and Lafayette, La., the new LNG stations are the latest built under a partnership agreement between Shell and TA, which was initially announced back in 2012. The companies opened their first joint LNG lanes in Ontario, Calif., last year.
"It is great to see LNG fuel now being offered at these two stations," says Elen Phillips, Shell's North American vice president of fuel sales and marketing. "LNG can be a good choice for truck owners, and more are making the switch to LNG. With each new site, we are pleased to be driving the development of safe and cost-efficient LNG fueling technology."
Earlier in March, Shell also announced the opening of its first European LNG station, which is located in the Netherlands.
For TA's part, company president and CEO Tom O'Brien says, "We are very happy to have opened our Baytown and Lafayette LNG lanes."
"All of our LNG lanes are "super lanes,' in that they are equipped to dispense LNG, diesel and DEF," explains O'Brien. "Because super lanes are integrated with existing fuel lanes, we do not interrupt truck traffic flow or reduce available truck parking spaces."
TA also notes it has retrofitted six TA Truck Service and Petro:Lube facilities to complete maintenance and repairs on both LNG and compressed natural gas (CNG) trucks. These locations include the following:
– TA Harrisburg, Pa. (I-81, Exit 77)
– TA Baytown, Texas (I-10, Exit 789)
– TA Lafayette, La. (I-10, Exit 101)
– TA San Antonio, Texas (I-10, Exit 583)
– TA Dayton, Ohio (I-70, Exit 10)
– Petro Ontario, Calif. (I-10, Exit 57)
As customer demand grows in the U.S., Shell and TA say they plan to open additional LNG truck fueling lanes together.