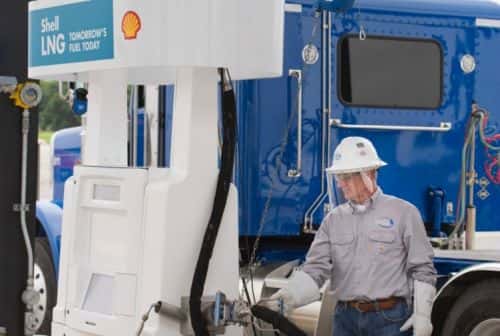 The alliance between Shell and TravelCenters of America LLC (TA) continues, with the partners opening their fifth liquefied natural gas (LNG) fueling location. The companies first announced their agreement to team up to build fueling lanes at TA locations across the U.S. in 2012.
Shell LNG fuel is now available at an existing TA truck fueling station in Dallas. This marks the companies' third joint LNG station in Texas: In May, TA also announced the opening of Shell LNG fueling lanes at its San Antonio location, and in March, the partners completed LNG lanes in Bayton.
According to Shell, the Dallas, San Antonio and Baytown stations are strategically located in the Texas Triangle, a region with heavy truck traffic.
The alliance's other two LNG stations are in Lafayette, La., and Ontario, Calif. As customer demand grows in the U.S., Shell and TA plan to open additional LNG truck fueling lanes.
"This is another step forward in providing LNG fuel supply to heavy-duty road customers in the U.S.," says Shell's Christian Buelow. "We expect the strengthening supply chain in North America to give customers reassurance that LNG is a viable fuel alternative to diesel today. We believe in the potential of LNG fuel becoming a bigger part of the marine and road transport fuel mix and continue to look at supply opportunities in the region."
Meanwhile, TA notes it has also retrofitted 10 of its TA Truck Service and Petro:Lube facilities in the U.S. to provide truck maintenance and repair on both LNG and compressed natural gas trucks.