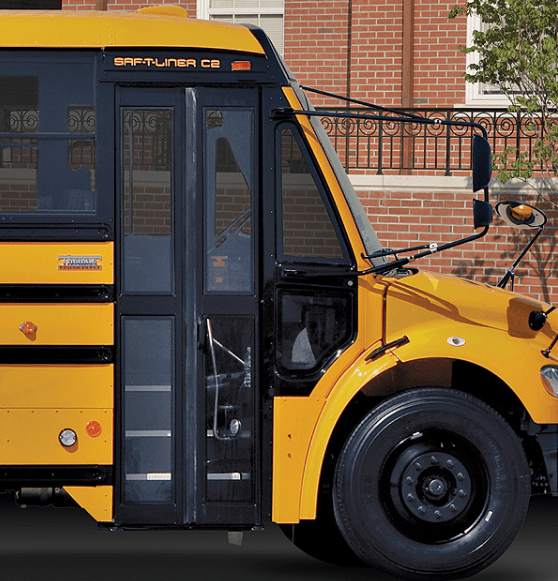 Blue Springs R-IV School District, located in Blue Springs, Mo., says it has purchased 19 Saf-T-Liner C2 compressed natural gas (CNG) school buses from Thomas Built Buses.
With this move, Blue Springs becomes the second district to incorporate Thomas Built Type C CNG school buses in its fleet.
"Over the past 13 years, our fuel costs have increased 213 percent," said Steve Brown, transportation director for Blue Springs R-IV School District. "By incorporating compressed natural gas in our fleet, we hope to not only reduce fuel costs, but also to reduce our emissions. We could not be more excited to introduce CNG in our school district."
Thomas Built Buses' Saf-T-Liner C2 CNG utilizes the Cummins Westport ISB6.7 G 6.7-liter natural gas engine and an Allison 2000 series transmission. The company states that it is California Air Resources Board (CARB)-certified, meets CARB's optional low oxides of nitrogen standard of 0.1 g/bhp-hr, and meets Environmental Protection Agency (EPA) 2016 emissions and 2017 EPA greenhouse-gas requirements.
"We have had a lot of interest in our Saf-T-Liner C2 CNG school bus," said Caley Edgerly, president and CEO of Thomas Built Buses. "Blue Springs is the second district in the United States and Canada to receive our Type C CNG buses, and we are very excited to see them on the road this school year."
Thomas Built Buses, headquartered in High Point, N.C., and a subsidiary of Daimler Trucks North America LLC, introduced its first CNG bus nearly 20 years ago, and since then, CNG has grown in popularity due to an abundant domestic supply and stable fuel costs. Today, Thomas Built also offers the new Saf-T-Liner C2 CNG, along with the Saf-T-Liner C2 Propane, Saf-T-Liner HDX CNG, Minotour Propane and Minotour CNG.