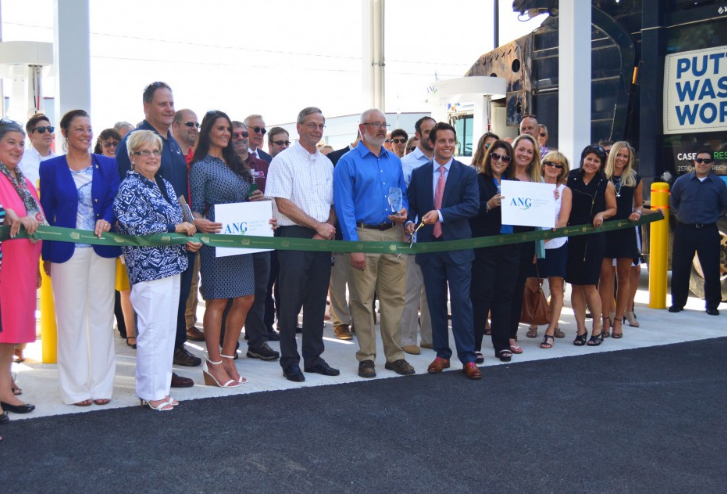 American Natural Gas (ANG), a distributor of alternative motor fuels, held a grand opening ribbon-cutting ceremony to unveil what it says is the first public compressed natural gas (CNG) fueling station in Saratoga Springs, N.Y.
Several local business leaders and elected officials attended the ceremony at the station, which is located at 34 Cady Hill Blvd., in the W.J. Grande Industrial Park.
"We launched our company here in Saratoga Springs in 2011 with a big idea: If we brought CNG infrastructure to well-meaning fleets, then alternative fuel conversions would be easier, more realistic and more sustainable because they'd have a partner by their side," says Andrew West, CEO of ANG. "I'm proud to say that five years later, we've grown to over 16 stations, and by the end of the year, we plan to have six in New York state alone."
"There are businesses all around us that have considered alternative fuels but turned down the idea because the infrastructure hurdle was too great. Now, they have a choice," West states.
In addition to West, Carrie Woerner, a New York State assemblywoman; LoAnn Sanders, legislative aide to New York State Senator Kathleen Marchione; Joanne Yepsen, mayor of Saratoga Springs; Peter Vanderhoof, fleet and facilities energy director for Casella Waste Systems; and Jeff Gicewicz, vice president of corporate holdings for Try It Distributing, all joined in the opening statements.
At the event, West and Vanderhoof demonstrated the benefits of CNG on a Casella Waste Systems refuse truck, which was connected to a 3600 PSI nozzle and fueled as it would at a typical gas station. A fast-fill operation, ANG's station allows operators to fuel in minutes compared with a time-fill CNG station that would require them to hook up and fuel overnight.
Also present at the event were representatives from Congressman Paul Tonko's and Congresswoman Elise Stefanik's offices and several company reps that support alternative energy infrastructure.
"This project is consistent with the goals of our Climate Smart Task Force, which is focused on working with businesses and residents to identify actions that our community can take to reduce greenhouse-gas emissions through energy-saving strategies and sustainability practices," says Mayor Yepsen. "I am hopeful that many Saratoga-based fleets will consider switching to clean-burning natural gas, allowing them to reap the cost-savings and emission-reduction benefits of the fuel."
ANG opened the station with an introductory price of $1.19/gallon.