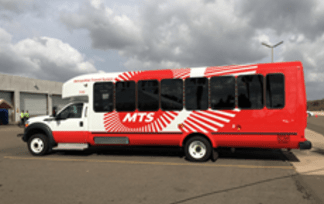 The San Diego Metropolitan Transit System (MTS) has rolled out its new fleet of 77 buses fueled by propane autogas, helping the agency reduce its operating costs and reducing emissions by 2 million pounds per year.
"This is a great example of how MTS is realizing cost savings and helping communities reduce emissions," says MTS CEO Paul Jablonski. "MTS will save about $5.8 million over the five- to seven-year lifecycle of the vehicles and reduce the carbon intensity by 71 percent."
According to the agency, the MTS purchased 31 minibuses and 46 paratransit buses fueled by propane. All propane-fueled buses will be stationed at the agency's Copley Park Division in Kearny Mesa, where MTS operates 178 paratransit vehicles and 37 minibuses.
With the switch to propane, 35% of the Copley Park fleet is now operating on alternative fuels.
As reported, the minibuses are built on the Ford F-550 chassis, and the paratransit buses are built on the Ford E-450 chassis. Each model features a Ford 6.8 L V10 engine, with a ROUSH CleanTech propane autogas fuel system.
The MTS says that over the lifetime of the fleet, more than 7.8 million pounds of carbon dioxide will be eliminated from its total carbon footprint – the equivalent of taking 747 passenger vehicles off the road for a year, according to the U.S. Environmental Protection Agency's (EPA) equivalencies calculator.
Historically, propane autogas costs 40% less than gasoline and up to 50% less than diesel. The current gasoline price the MTS pays is $1.99 per gallon, and the propane price is $1.39 per gallon.
The California Air Resources Board and the EPA certify the ROUSH CleanTech Ford E-450 and F-550 buses for sale in all 50 states. The ROUSH CleanTech Ford E-450 has completed the Federal Transit Administration's New Model Bus Testing Program (Altoona Testing) and can be purchased using a transit agency's FTA funds.
ROUSH CleanTech, a division of ROUSH Enterprises based in Livonia, Mich., designs, engineers, manufactures and installs propane autogas fuel system technology for medium-duty Ford commercial vehicles and Type A and Type C Blue Bird school buses, as well as compressed natural gas fuel systems for Type C Blue Bird school buses.
The alt-fuel tech provider has deployed nearly 14,000 propane autogas vehicles to fleets across America – of those, approximately 800 operate in the transit industry.