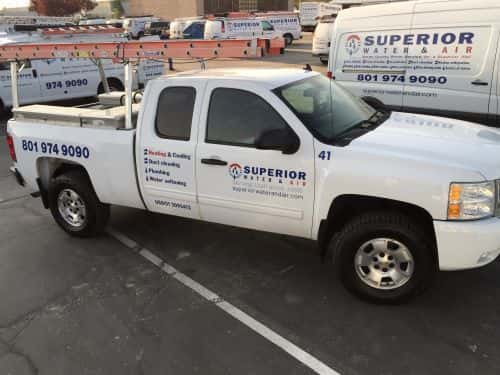 Thirteen months after converting 29 vehicles from gasoline to propane autogas, Superior Water and Air reports its fleet has eliminated 62 tons of CO2 and saved an estimated $120,000 in fuel costs.
The full-service company provides heating, air conditioning, plumbing and water treatment services to the Salt Lake City area. The company's 74 fleet vehicles each travel about 20,000 miles per year and are frequently used to haul equipment on trailers.
'Our main motivation for switching to propane autogas was financial,' explains Mark Lambourne, president of Superior Water and Air. 'We've seen substantial savings and estimate the company will see a return on investment 18 months after conversion.'
Propane distributor Blue Star Gas installed the company's 1,000-gallon on-site fueling tank and converted two Chevrolet Silverado pickups, one Ford E-350 box truck and 25 full-sized Chevy 2500 cargo vans to propane autogas. Blue Star Gas says it will assist with future autogas vehicle conversions and provide ongoing safety training and technical support.
According to Darren Engle, director of government relations for Blue Star Gas, bringing more low-carbon alternative fuels to the region is important to achieve the area's clean air objectives.
"People have been working hard to improve the air quality along the Wasatch Front," says Engle. "Companies like Superior Water and Air have found that implementing alternative fuels not only contributes to these efforts, but is also an excellent business decision."
In addition to the green benefits, Superior Water and Air's Lambourne says he has found propane autogas simply matches his overall business philosophy.
"We are a company that buys a vehicle and runs the wheels off of it," he says. "For fleets like us, you can realize both the financial and environmental benefits of running on propane autogas for a long time.'