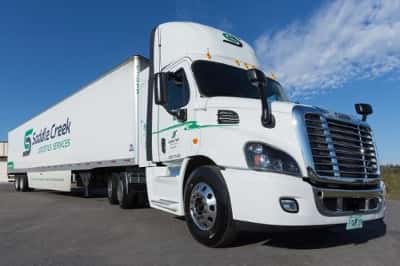 One of Saddle Creek Logistics Services' new compressed natural gas (CNG) tractors has taken off from Lakeland, Fla., on 'The Great American Green Ride' – the first cross-country trip for a Saddle Creek for-hire CNG truck.
The Freightliner Cascadia Evolution truck, which is one of more than 140 CNG tractors in Saddle Creek's fleet, features Cummins Westport's 11.9-liter ISX12 G natural gas engine and up to 600 miles of driving range. It will travel from Lakeland to San Diego and back, making deliveries for customers Procter & Gamble and Lowe's.
'This trip gives us a great opportunity to showcase CNG's ability to reduce our carbon footprint,' says Mike DelBovo, president of Saddle Creek Transportation. 'In the course of this 5,800-mile round trip, the truck will reduce its carbon emissions by 7,656 pounds – more than a pound a mile.'
While in San Diego, the CNG truck will be on display at Saddle Creek's booth at the Retail Supply Chain Conference, Feb. 23-26. During its trip, the truck will access fuel at commercial CNG stations.